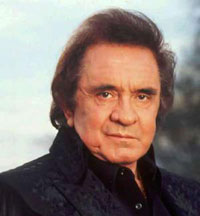 Johnny Cash died five years ago today, and every day he becomes more religious. Or rather, each day you can find another Christian praising Cash's sorrowfully guilty, sin-prone faith and calling for today's Christians to be more like him. It's an odd canonization, at odds with what the rest of us expect from Christian role models, that began shortly before his death and accelerated when he passed on in the fall of 2003.
Three years ago, Touchstone magazine, recalled Cash's late-in-life rebellion against the record industry–they published an ad featuring a vintage photograph of Cash flipping the bird as a sarcastic appreciation to the executives who abandoned him, then wrote, "Yet there is something in the Cash appeal to the youth generation that Christians would do well to emulate."
The trend has culminated in "Johnny Cash and the Great American Contradiction," a compelling cultural critique by Rodney Clapp published earlier this year. Clapp offers Cash as the embodiment of an authentic American morality, and he parses Cash's image in theological and political terms. By every measure Clapp applies, Cash outshines the hubristic, triumphalist and rule-obsessed Christian of today's America. The key to Cash's sainthood is precisely his humble imperfection.

No mortal man can withstand this degree of mythologizing. As one blogger asks, "How could Johnny Cash be so profoundly Christian and patriotic, and yet so this-worldly, provocative, and controversial at the same time?" It's easy to forget that Cash repeatedly fell, for years at a time, into irrelevance. His current transformation from showman to saint may have less to do with an exemplary Christian life than with Christians wishing they could re-introduce themselves to the broader culture, as sinners and not saviors.