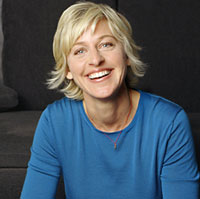 With Lindsay Lohan officially announcing that she's been dating Samantha Ronson for "a very long time" and Clay Aiken (finally) coming out in his most recent feature story in People, it might be time to look at the week in gay news.

First, Lohan. Lindsay and Samantha are dating, yes, but are not engaged.
Now, Aiken. He came out because he didn't want to keep secrets from his newborn son. "I cannot raise a child to lie or hide things,"
he reportedly said
in the new issue of People.
Over on "
Dancing with the Stars
," Lance Bass (NSYNC) and partner Lacey Schwimmer cut a rug and survived the first elimination round on the popular ABC reality show. Bass is the first openly gay contestant on the show, and
according to E!Online
, "wouldn't mind" having a DWTS show that featured only same-sex couples, but thinks that the original DWTS may be the wrong venue. He also feels a real responsibility to represent the gay community well:
"I think it's so important for me to do this," he says. "But my biggest concern is I just hope it doesn't hurt the gay community in any way because, you know, we definitely can be scrutinized and picked apart. I definitely feel a responsibility of making sure I represent well."

Brad Pitt is not gay. But he and partner Angelina Jolie have long maintained that they won't marry out of principle until every person has the right to marry the person that he or she loves. Now he's putting his money where his mouth is, by donating $100,000 to fight Proposition 8, which, if approved, would "overturn the California Supreme Court's landmark May ruling that it is unconstitutional to prevent gay couples from swapping vows."
And now, back to Ellen, who married longtime girlfriend Portia de Rossi in August, and who is now featured in the latest CoverGirl ad campaign.
In a statement to Access Hollywood, Esi Eggleston Bracey, Procter & Gamble's vice president, said:
"Ellen is the quintessential CoverGirl. She is smart, confident, natural, and beautiful from the inside out. Her beauty and down-to-earth personality fit perfectly with what CoverGirl represents."
Ellen's CoverGirl campaign will begin running in 2009.