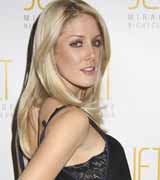 Heidi Montag, one of the "famous for being famous" talentless starlets Hollywood grinds out at an alarming pace these days, is certainly not letting any of her fifteen minutes go to waste. The "Hills" villainess, whose relationship with Spencer Pratt guarantees her at least one tabloid cover a week, has already tried her hand at pop music, acting, and fashion design. Her next 'career'? Christian music.

Heidi tells Us Weekly that she considers herself a devout Christian and, at one point, she had considered going to Africa to do mission work. Identifying herself as a 'non-denominational Baptist,' she tells the magazine, "I have been the most religious person since I was 2 years old. I always felt this crazy connection to God."
Genuine faith, or just another publicity stunt? I suppose only time will tell.