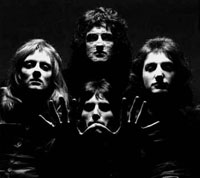 Heaven, along with heart, may be the most overused word in the pop lexicon. What I'm after here is not the tunes that insist that kisses are heaven or that heaven only knows what's going to happen to our love. To qualify, a song had to present a view of what awaits us all. And, of course, it had to rock.
10. Heaven for Everyone by Queen — Queen's late frontman, the lascivious rocker Freddie Mercury is most famous, perhaps, for "We Will Rock You. He may the last person you'd expect to hear preaching the kingdom of God, not in the sky, but on Earth: "Love, love, love, this could be heaven for everyone," he sings. But Mercury was no hippie, and his Kumbayah moment has bite: "What people do to other souls–destroy their goals, their basic pride and dignity is stripped and torn and shown no pity, when this should be heaven for everyone."

9. In Heaven by The Pixies — In a punker's cynical vision of the Great Beyond, the Pixies point up the inherent contradiction in rewarding a selfless life with selfish pleasure. But that, they imply, is what humans really want. "In heaven," go the lyrics in their entirety, "you've got your good thing and I've got mine."
8. Christmas Day in Heaven by Monty Python — Where the Pixies indict our selfishness, Monty Python puts the wind up the culture's cheapened aspirations for the ultimate bliss. Not only is heaven a place where "there's great films on TV: 'The Sound of Music' twice an hour and 'Jaws' One, Two, and Three"; "there's gifts for all the family. There's toiletries and trains. There's Sony Walkman Headphone sets and the latest video games."
7. Heaven by Talking Heads — David Byrne's paradise has its treats: it's a party that never ends, and the band in heaven, "plays my favorite song. Plays it all night long." But for Byrne, the real point is that in heaven "nothing ever happens." Heaven, the opposite of Earth's "one d–n thing after another," is the absence of change.

6.
Airline to Heaven by Wilco
— In his Dylanesque mode, Wilco leader Jeff Tweedy spoofs the idea that faith is a formula (You can get away to heaven on this aeroplane, just bow your head and pray") or that that redemption can be bought from your local preacher—or else. ("Have your ticket in your hand before it's too late.")
5.
How Far is Heaven by Los Lonely Boys
— The Latin-influenced band fittingly struggles with a very Catholic approach to the pursuit of heaven, stressing works over faith. The singer frets guiltily over his past and promises to reform, but wants to know just how good one has to be to attain paradise. "I know I have to change my ways of living," he says, "I just want to know how far."
4.
Tears in Heaven by Eric Clapton
— Written when his grief for his deceased 5-year-old son was still fresh, Clapton refuses to be comforted by easy sentiment about being re-united with our loved ones in heaven. Instead he questions whether we will be transformed unrecognizably by the experience of death. "Would you know my name," he asks his son, "if I saw you in heaven?"
3.
Will You Meet Me in Heaven? by Johnny Cash
— This old chestnut, rendered in a haunting version by not only Johnny but several of his Carter relatives, answers Clapton definitively. "We can't be sure of how it's going to be when we walk into the light across the bar. But I'll know you and you'll know me, out there beyond the stars."
2.
Where the Streets Have No Name by U2
— The band ended years of speculation about the spiritual underpinnings of this song–and where precisely the streets have no name—when they performed it at the Super Bowl in 2002 as the names 9/11 scrolled behind them. Before launching into the first verse, Bono could even be heard mumbling a line from Psalm 51 ("O Lord, open my lips, and my mouth will declare your praise"). The combination of the power chords and the mystical lyrics portray heaven as a place of passion and fire.
1.
Stairway to Heaven by Led Zeppelin
— As I pointed out in
a post
last year, Robert Plant's lyrics have little to do with religion. But as I also pointed out in that post, it's practically a federal law that all best-song countdowns have to end with this tune. So how could I resist?