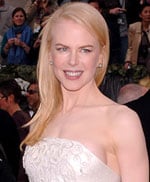 Though I rarely see it said explicitly in the press, it has always been obvious to me that Nicole Kidman lost primary custody of her adopted children in her divorce from Tom Cruise and that Scientology no doubt has had something to do with it. But now Page Six of the New York Post is reporting that the Catholic-raised Kidman definitely wants her kids out of Scientology.

Page Six is using former Scientology insider Ian Halperin, who wrote the book "Hollywood Undercover" as their primary source for claims that Kidman is unhappy with the way her children have become "entrenched in Scientology." But this latest gossip is just one more rumbling amidst quite a few other hints that the Oscar-winning actress is not happy about the limited amount of time she is allowed to spend with her kids and the influence Cruise's lifestyle is having on them.
Kidman and husband Keith Urban have bought a home in Los Angeles in the last year and Kidman has said in other interviews that she hopes now that she is married to Urban that she will share custody of Connor and Bella.
With rumors of TomKat's relationship possibly hitting some problems, maybe Nicole could rescue little Suri while she's at it.