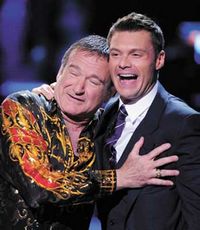 Last year's "Idol Gives Back" was an exciting experiment in charitable giving with a delightful roughness around the edges and a pioneering spirit. This year the "Idol" team produced a slick telethon with a vast array of stars and even a contestant-laden phone bank luring fans to call in and donate. The show itself was a nice mix of comedy, music and truly touching stories of children suffering in poverty from Appalachia to Africa.

But while I laughed and teared up during the 150-minute special, I felt the show struck a sour note with its closing number: the remaining Idols singing the Christian Praise and Worship anthem "Shout to the Lord," a song they had sung earlier in the evening as well. Now I have nothing against Darlene Zschech's smash hit gospel song, with its wonderfully rousing chorus, but the
lyrics
are clearly Christian.
Could members of the other Abrahamic faiths— Judaism and Islam—find inspiration in the song? Sure, but with an opening line like "My Jesus, My Savior, Lord there is none like you," it's pretty firmly entrenched in the Christian camp and I doubt viewing Buddhist brethren could, as the judges might say, connect with the song. In fact, I think such a clearly dogmatic song would put off many people who just watched two-and-a-half hours of a program that hoped to demonstrate that we are all part of the same human family.
Why not choose something like "Amazing Grace" a Christian hymn based on Old Testament material that has been sung through the years by Christians and non-Christians alike fighting for human rights and equality? Sure there have been religious contestants singing religious songs, think Mandisa, but never has the show seemed to have a sectarian editorial voice; and, frankly, I've liked it that way.

Maybe the producers were hoping to strike a chord with an untapped Christian audience, there has been coverage of the song on lots of Christian websites today, but it changed the mood for me dramatically. At least Ben Stiller's comic appearance immediately following the song was a saving grace. Stiller shouting bleeped out expletives at a double-crossing host Ryan Seacrest ameliorated the faux-vangelism experience and reminded me of the exciting experiment of the first year of "Idol Gives Back."
Do you think "Shout to the Lord" was an appropriate closing song for last night's "Idol Gives Back"?