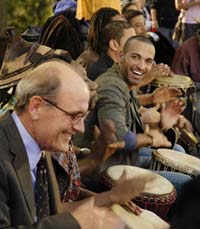 A drum beat commands attention, gathers communities, invites us to dance. It is the sound of freedom and also the sound of warning: "Sit up, take notice, focus." The drum beat in "The Visitor" serves as a wake up call. It raises timely issues of immigration and incarceration but keeps the focus upon the human cost of our post-9/11 policies. This small, winning drama builds in intensity until we all find ourselves wanting to dance, shout, and march.
Walter Vale is an economics professor who has been sleepwalking through academia since his wife died. When Walter travels to New York City for a conference, he discovers a young couple, undocumented immigrants, have become squatters in his apartment. Tarek and Zainab are vibrantly alive. Tarek plays the djembe drum in the local music scene. Zainab has dreams of becoming a designer. But neither of these hard working Muslims has a visa. Their plight raises Walter from his slumber and compels him to action.

Tarek teaches Walter how to play the djembe. Walter slowly loosens up. Veteran character actor Richard Jenkins brings warmth and humor to his portrayal of Walter. He commands the screen with his stillness As the carefree drummer Tarek, Haaz Sleiman lights up his every scene. We watch his vibrancy vanish under imprisonment. Two women demonstrate grace under pressure. Danai Gurira's character, Zainab, travels a great distance, not just from Senegal, but also from suspicion to trust. She allows Walter to serve as the emissary toward her beloved Tarek. Hiam Abbass presents a regal portrait as Tarek's concerned mother, Mouna. She never sinks into cliché. Walter and Mouna kindle an unexpected romance, rooted in genuine respect.
"The Visitor" is Tom McCarthy's distinguished follow up to his Sundance Award winner, "The Station Agent." Both films are rare, life-affirming portraits of strangers thrust together by circumstances. They chronicle how unlikely friends forge a supportive community. McCarthy's films raise the timeless question, "Who is my neighbor?" "Are we our brothers and sisters keepers?" In "The Visitor," the answer is a resounding, "Yes!"

So many films have attempted to encapsulate American anxiety and the war in Iraq with disappointing results. It is tough to comment on a complex situation while it is unfolding. How do we gain perspective on contemporary issues? "The Visitor" invites us to consider the plight of "the other." It offers sympathy for the Syrian, compassion toward the Senegalese. By pushing past stereotypes, the movie invites us to treat each other as humanely as possible, regardless of background.
It is tough to build a film around a passive character. We expect action heroes to swoop and save humanity amidst a hail of bullets. But "The Visitor" unfolds at a quiet, deliberate pace. It makes us question our own indifference towards immigrants and refugees. Are we willing to visit their situation, to consider their plight? Like Walter, we may find ourselves strangely moved. "The Visitor" affirms our need to bang a drum, to raise a ruckus, to make some much-needed noise.
Click here
to watch the trailer for "The Visitor."
–written by Craig Detweiler
Craig Detweiler directs the
Reel Spirituality Institute
( at Fuller Theological Seminary. His comedic documentary,
Purple State of Mind
is touring the country in 2008.