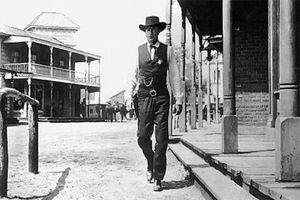 There was a time—especially back in the 1940's, 1950's and 1960's, where Westerns made up a large portion of a year's annual movies. From Roy Rogers to John Wayne to Clint Eastwood, from the days of cowboys-and-Indians to the towns of the spaghetti westerns, generations were enthralled and inspired.
But recently, well-done Westerns are few and far between. In celebration of the Western—an in acknowledgment to "No Country For Old Men" having so many Oscar nods—we present our list of the Top Ten Most Inspiring Westerns of the last 30 years:
10. "Unforgiven" (1992), with Clint Eastwood, Gene Hackman, Morgan Freeman and Richard Harris. "Unforgiven" was beautiful, well-done and deep. It was a western-with-a-conscience, almost the anti-western. Its tragic ending and enduring questions made it wonderful for Oscar and inspiring in a bitter-sweet way.
9. "Dances With Wolves" (1990), with Kevin Costner, Mary McConnell and Graham Greene. Beautiful, enduring and Oscar-worthy, Costner's redemptive tale somehow made a hero of a guy guilty of abandonment and treason. Some saw the hero-turning-Indian a farce, while others were deeply touched to see individual convictions rise above the mentality of the mob.
8. "Maverick" (1994), with Mel Gibson, James Garner, Jodie Foster. This was perhaps the most feel-good Western of the era, with even the bad guys seeming like good guys. But it sure makes for enjoyable watching, is family-friendly, and has a redemptive quality in its treatment of friends, romance and, in the end, family.

7. "The Mask of Zorro" (1998), with Antonio Banderas, Catherine Zeta-Jones and Anthony Hopkins. A Golden Globe nominee for Best Picture and Best Actor, this brought some good old-fashioned fun with lots of spectacular moments, well-choreographed fight sequences, a love story, old-fashioned clearly-defined heroes and villains and love's tragic victory in the end.
6. "Lonesome Dove" (1989), with Robert Duvall, Tommy Lee Jones, Danny Glover and Anjelica Huston. Larry McMurtry originally wrote this for John Wayne, James Stewart and Henry Fonda as the leads. Too bad it didn't happen as it would have been an all-time classic. As it was, it won two Golden Globes and spawned a host of sequels. I liked it for portraying one compelling opportunity that changed the course of everyone's life. Most of us have that opportunity but rarely take it.
5. "Pale Rider" (1985), with Clint Eastwood and Michael Moriarty. This wasn't the grand spectacle that "Unforgiven" was, but served as a wonderful bridge from the old spaghetti westerns to a more modern western that was both more realistic as well as moralistic. And, how can you not like Clint as a preacher!

4. "Open Range" (2003) with Robert Duvall, Kevin Costner, Annette Bening. In a time when the mountains were free but the lawmen of cities were bought and paid for, the "free grazers" risk it all to stand for their rights against the oppressive power structure of the town. This came as close to a modern day Eastwood spaghetti western morality tale as any, highlighted by Duvall's emboldened saloon speech and Costner's honest effort to play an anti-hero.
3. "The Man From Snowy River" (1982) with Kirk Douglas, Tom Burlinson. Young Jim Craig carries the values of 18 years of Australian farm life into a family feud, and against false accusations, captures the wild horses, defeats his enemies and wins the girl.
2. "Tombstone" (1993) with Kurt Russell, Val Kilmer, Sam Elliott, Bill Paxton. Justice is served and loyalty is honored among friends and family who come together for a cause. Far superior to "Wyatt Earp," this is the best telling of the Earps self-proclaimed war against the cowboys.
And my #1 choice…
1. "Silverado" (1985) with Kevin Costner, Scott Glenn, Kevin Kline, Danny Glover, John Cleese, Jeff Goldblum, Linda Hunt, Brian Dennehy, Rosanna Arquette. This was a classic western complete with an all-star cast, good guys and bad guys, loyalty and betrayal among friends, family ties, moral dilemmas and the town square shoot-out. Real men and women step up as decent heroes. In another year in Oscar's fickle climate, it would have won Academy Awards. As it is, it is my pick for Most Inspiring Western.
Sorry, but although "No Country For Old Men" wins this year's Oscar nominations, it doesn't make our Most Inspiring Westerns list. Nor does the late Heath Ledger's "Brokeback Mountain." Those are my choices; what are yours?