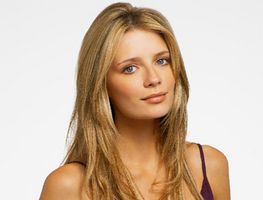 I believe the term "Celebrity Apology Tour" was coined after Hugh Grant went on every TV show possible to try and repair his image following his arrest for soliciting a prostitute. However, with most TV shows on hiatus or slowly returning without writers, what's a recently disgraced starlet to do? Get photographed going to church, of course.

Twenty-one-year-old actress Mischa Barton, best known for her starring role on teen night-time soap "The OC" and modeling in Keds shoes ads, was arrested in Los Angeles last week for a DUI. The police report stated that Barton had been found in possession of a narcotic, although they failed to specify which one. (Many gossip sites have speculated that the narcotic was marijuana, because a magazine named Barton one of "Hollywood's Biggest Potheads" last year.) Although Barton and her relatives keep a lower tabloid profile than the Spearses, Mischa's younger sister Hania spent some time in rehab last year for prescription painkiller addiction.
Barton was spotted yesterday leaving the Good Shepherd Catholic Church in Beverly Hills. While no one seems to know if she attended mass, went to confession, or simply went in for a few moments of quiet contemplation, a starlet in church instead of a bar is such a rare occurrence that it quickly made headlines. Time will tell if her sudden religious devotion is a publicity stunt or a genuine attempt at rehabilitating her life.