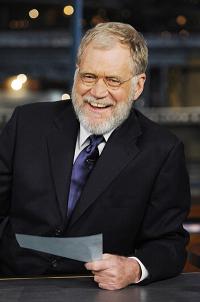 Last night, I was doing a victory dance in my PJs as I watched David Letterman's return to late night TV. I have not only become a rabid fan of the Letterman writers' strike blog, where the writing staff of the show have been taking on the issues of the WGA strike with satirical brilliance, but I am a bigger fan of Dave's than ever after his production company cleverly found an ethical way to return to late night by creating their own deal with the Writers Guild so Letterman would be the only host not to cross the picket line.

Letterman brought on a heavyweight comedic guest in Robin Williams and scored Hillary Clinton as his surprise guest to do the show's introduction. He skewered the media moguls who refuse to negotiate by featuring a top ten list with writers from the top shows on TV. It was as smart of a return to late night as I could have hoped for. ( My favorite line of the night was when Letterman said, "Without writers and caffeine, I have no personality.')
So, I am asking you, America, with more than a little concern, what went wrong?

According to the overnight ratings, Leno beat Letterman in viewership–though not by a huge margin. Leno, who featured a politician, Mike Huckabee, who didn't mind crossing a picket line and did a tired bit with the show's band. Leno spent part of his opening monologue telling a lame story about a former girlfriend and the rest of his monologue apologizing for returning without his writers in between a tedious q & a with the audience.
I expected Letterman to win the night in a landslide. I expected this to be a turning point in the strike because Letterman's strategy would send a message to the Alliance of Motion Picture and Television Producers. I expected the public to not forget the importance of this strike under that broad umbrella of the culture wars by showing support for those who are tirelessly fighting for what is fair and just.
Now I am worried that the writers are losing ground in this battle. Maybe I am overreacting, and maybe the shows in the coming weeks will reverse this opening night battle. I hope so. Because I still maintain that if the writers don't start gaining momentum in this strike, the effect it will have on the media we consume will be drastically, and perhaps permanently, changed.
Come on, America. Stay up late tonight, and give Dave a chance, or say hello to "Deal or No Deal with the Power of Ten Supernannies" hosted by Flava Flav and Tia Tequila.