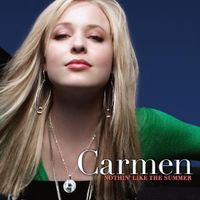 Carmen Rasmusen finished in the Top 6 on the second season of "American Idol." A devout member of the Church of Jesus Christ of Latter-Day Saints, she and her values sometimes clashed with the expected behavior of a pop singer. Carmen talks to Beliefnet's Lilit Marcus about her new memoir, Staying In Tune, and how she remains true to her Mormon beliefs while pursuing her musical dreams.

Beliefnet: This book is aimed at young women and girls, many of whom struggle with their self-esteem. How did you cope when you were on "American Idol" and being criticized not for your singing but for your looks?
Carmen: My parents always have taught me 'you're good enough'. Love who you are, and you're good enough, and you don't need to feel like you need to apologize for who you are, and you don't need to feel like you need to try to be someone you're not. So, whenever I got bad comments from the judges, or I'd get on the Internet and read what bloggers have written about me, I would get so down, and I would get so sad. The biggest support group was obviously my parents, and I'd call them. And they'd build me up. ["Idol"] was such a neat thing for me to do, but it wasn't the most important thing in my life. My family and faith are.

Beliefnet: A lot of former contestants whose careers aren't taking off are making names for themselves by speaking out against American Idol or sharing dirt about other contestants from their season. Have you ever felt pressured to sort of keep your own name out there by making American Idol look bad, or do you feel that you have a loyalty to the show?

Carmen: I've absolutely felt the pressure to do that, and I've been asked to do that before. I've learned that it's never, ever worth it to say anything bad about anyone or about the show. I give my honest opinion about the show. But, the truth is–and I've said this so many times–no one would be where they are if it wasn't for the show, period. No one would have the opportunities that they've had. No one would still be in the spotlight if it wasn't for the shot that they had on "American Idol." It opened up so many doors for all of us. I didn't have really any horrible experiences on the show. My experience as a whole was really, really positive. And of course, with showbiz there's a lot of negative things, along with the positive, and it's just what you choose to focus on. And I choose to focus on the positive.
Beliefnet: Not everyone on 'Idol' has success after the show. Even two recent winners, Ruben Studdard and Taylor Hicks, were dropped by their record labels recently. What advice do you have for people after the shine and the glamour of the show wear off?
Carmen: You have to realize that, if you don't get signed right away, it's not because you're not talented. It's not because you're not good enough. The stars have to align perfectly in order to get signed. And sometimes it works out, and sometimes it doesn't. Give it your best shot. Go for it. If it's what you really want to do, go for it. Even if you don't make it, you will never look back and have regrets. You can always say, "Hey, I went for it. I tried my hardest. It was an awesome experience." There are so many more opportunities that the show can give you in having your name out there, job opportunities, in and out of the entertainment business.
Beliefnet: You talk so much about your faith in your book. How do you feel about Mormonism being so much in the open now that Mitt Romney is running for president?
Carmen: You know what? I think it's great. I think that Mormonism as a whole has been misunderstood. So, I think, if anything, it's neat that people just get to learn a little bit more about what our faith is about and what we believe in. My religion is my whole life. I love sharing it with people and clearing up any misunderstandings people might have about our Church. I think Mitt Romney's done a really good job of explaining himself and the religion and what he believes in, and–without being too preachy and without trying to pretend like he's trying to convert everyone. I think that it's been a really good thing.
Beliefnet: What advice do you have for this year's American Idol contestants?
Carmen: The best advice I could give is be yourself. What I did before I was on the show was I made goals for myself. I said, "Who do I want to be, and what will I compromise, or won't I compromise?" And then, I stuck with that. I think that you have to prepare yourself mentally for show business, because it is such a tough world. You don't realize how hard it is until you're actually in it and you're actually on the show. And that's not the time to make decisions. It's before you get on it, so you won't be swayed by pressure. Mentally prepare yourself for the show, and set goals for yourself and stick to them.
Also, just have fun. It's such a neat experience. And looking back, I wish that I wouldn't have taken it so seriously. I wish that I would have soaked it all in, took more pictures, written in my journal every single night, because I will never, ever get this opportunity ever again.