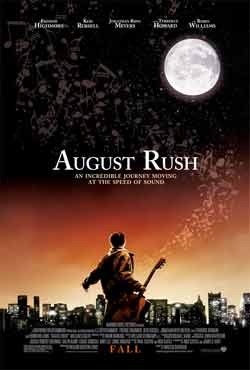 How has music changed your life and helped you connect with other people? That's a question at the heart of the new movie "August Rush," and it's one we want to hear from you about. Post your stories below or upload your photos answering that question, and you can win one of these great prizes:
5 iPod/MP3 mini speakers
5 women's musical-notes T-shirts
5 dark brown full zip hoodies embroidered with "August Rush" title treatment
1 mini guitar clock
1 pair of Bushnell 12 x 32 Powerview Binoculars
In "August Rush," opening Nov. 21, a young boy (Freddie Highmore) who's never met his parents makes his way to New York City to search for them. There, he encounters a makeshift shelter where dozens of children like him live under the protection of the enigmatic Wizard (Robin Williams)–and, picking up a guitar, the boy discovers he has an innate talent for music. As he works to develop that talent, he never gives up hope of finding his parents–and believes that if they can hear his music, they will find him.
So how has music made a difference in your life and connected you with others?

There are two ways to enter this contest:
1) Use the coments box below to tell us your story.
2) Upload your photo here to show us. If you're uploading a photo, make sure to put the words 'August Rush' in the space where it asks for "tags."
The best submissions will win. The deadline for entry is Tuesday, Nov. 27.
Click here for official contest rules.
And, you can be the first to know about exclusive Warner Bros. movie news updates, by clicking on the graphic below: