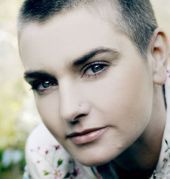 Controversial Catholic singer, Sinead O'Connor–who you may remember as "that woman who ripped up the a photo of Pope John Paul II on TV" is currently on tour promoting her new album, "Theology." The two-CD set consists of an acoustic and full-band version of 11 songs, most written by O'Connor herself, and based on passages from the Old Testament.

In a recent Beliefnet interview, O'Connor spoke
about her favorite parts of the Bible. "My love is the books of the prophets. Particularly I love Isaiah and Jeremiah, but Jeremiah would be my favorite, above all. So, I'd read [Jeremiah], and just the language and the place it took me to would make me forget about anything that might be on my mind."
Beliefnet has five copies of the album to give away. Want one?
Post a comment below by November 1st telling us
where you find inspiration in the Bible and how a specific verse has helped you get through a bad situation.
Make sure you include your email address in the designated area (it won't be made public). The three most original responses–based on the judgment of the Idol Chatter editors–win.
For the legal stuff,
click here.