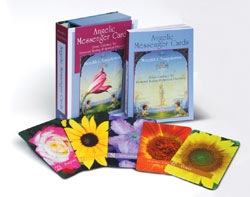 Do you want to improve your communication with the angels and connect with the Divine?
Learn how to with Angelic Messenger Cards: Divine Guidance for Personal Healing & Spiritual Discovery, a 46-card divination deck by spiritual teacher Meredith Young-Sowers. Depicted on each card are one-word messages ("willingness," "truth," and "encouragement") and beautiful photographs of flowers, symbols that "reflect the sacredness and beauty of the angel's intentions" and reminders of our own spiritual growth and transformation. Accompanying the card deck is also a book that offers an introduction to the angelic realm as well as detailed explanations of each card's meaning.

"We live in a time when we can use all the guidance coming to us, and so your daily use of these cards can help you…find something within to hold onto when times feel unrelentingly fierce and uncertain," reveals Meredith Young-Sowers.
By connecting with the angels, you can tap into a spiritual source that allows you to find answers to your daily questions, grow in wisdom, to heal emotionally, and express love to others around you.
To help you get started with reaching out to the angels, Beliefnet is giving away free decks to two people. Win one of the decks by answering these questions:
What was your most meaningful angel experience?
Post your answers below and
include a valid email address
where we can contact if you are chosen a winner. We will keep all email addresses private and hidden from view.
Submit your answer by Tuesday, October 30, 2007
. All winners will be announced shortly afterwards.
For detailed rules and regulations,
click here
.