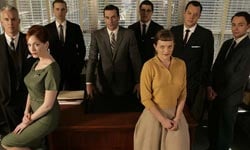 Hollywood's envisioning of the turbulent 60s has primarily relied on JFK, riots, Woodstock, and Vietnam as the defining images of that decade. Former "Sopranos" producer Matthew Weiner has instead dared to relentlessly and fearlessly examine every sacred cow of that era through the eyes of a group of charming, but sleazy ad execs in the AMC series "Mad Men."

With glitz and style–not to mention lots and lots of smoke–Weiner deftly weaves a tale in which prejudice, sexism, and a hefty use of tobacco products are common place. More importantly, Weiner uses these events to foreshadow our own current culture wars. In fact, "Mad Men" is, in some ways, what the sometimes smart, savvy, relevant show "Studio 60" tried so hard to be.
The world of the Sterling Cooper ad agency embodies a time younger generations of viewers will find hard to imagine–when it was acceptable to drink scotch and smoke in your office while telling your secretary to show off her legs if she wants to get ahead. But even the boys club at Sterling Cooper is beginning to feel the times changing as creative director Dan Draper is faced with the problem of how to continue to advertise cigarettes now that an article in Reader's Digest claims that tobacco will kill you. Traditional family values are being chipped away at because women are going on something called "The Pill." And Draper is being asked to create a positive political image for some guy named Nixon who wants to run for president.
Yet the most provactive storyline of the night was the introduction of a fiesty Jewish department store heiress who is considering hiring the agency to promote their stores. In yet another twist, Weiner does not attack white-black race relations but rather blatant anti-Semitism.
Preparing for the sales meeting, the ad execs rack their brains trying to think of where they can find a Jew to bring into the meeting to make "these people" more comfortable. After wondering if they should just go down and "grab one of them" from the corner deli, the head of the company brings in a nerdy looking guy to the office and tells Draper he "had to go all the way to the mail room, but I found one."

Menken is not impressed with Draper and his condescending manner or his ad suggestions (his big ad strategy is offering more coupons because…well…fill in the ugly sterotype as you will), but she is attracted to him in spite of their clash of beliefs, and hints of a future diasterous affair between the two (he's married) are obvious.
I could quibble about some of the minor problems I have with "Mad Men"–the soundtrack is just too much sometimes as are some of the plot points like the scene in the gynecologist's office–but any tiny complaints are far overshadowed by the overriding queston this series asks: Almost fifty years later, have we really made as much progress as a society as we think we have or is our present day morality worse, but simply disguised differently?
It's a tough question for a show that's up against reality TV and game shows to ask, but "Mad Men" might just be crazy enough to find an audience who will keep it on the air.