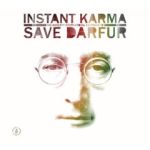 While many artists are out there stumping for their own music, it is such a delight to find albums that promote something more important than the artists themselves–a good cause. "Instant Karma", a new two-CD set, is doing just that for the Campaign to Save Darfur. Amnesty International has teamed up with Warner Bros. to produce these inspiring albums, which feature top artists like U2, Lenny Kravitz, Green Day, and Hassidic reggae star Matisyahu singing covers of John Lennon songs, donated by Yoko Ono.

The individual songs selected from Lennon's catalog puts the spotlight on the realities that people in Darfur are facing–and what people everywhere can be doing about it–and all are classics that still remain popular today, such as "#9 Dream" (covered by R.E.M.), "Power to the People" (covered by Black Eyed Peas) and "Give Peace a Chance" (covered by Aerosmith featuring Sierra Leone's Refugee All Stars). My personal favorite was Regina Spektor's beautiful version of "Real Love," which the people in Darfur really need.
Although the artists featured are from different musical genres–from punk-pop star Avril Lavigne to bluesman Mick Fleetwood–the covers unfortunately do not reflect the artist's individual styles. The songs "Imagine" and "Gimme Some Truth" are covered twice on the albums by different artists, but the two versions have a similar flair and sound. Whatever the reason for that, I would have appreciated more individuality in the music.
"Instant Karma" comes with information about the situation in Darfur and Amnesty International, complete with websites you can visit to help bring the tragedies in Darfur to the attention of politicians. Positive social change and music together–just "Imagine" what a difference that can make.
–Jana Melpolder