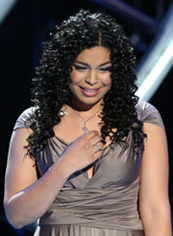 I have posted before about how I completely avoid "American Idol." I could care less if booted contestant Chris Sligh was Christian enough or what the world should think about Sanjaya's hair. But still, Idol mania in the media is almost impossible to avoid, and the latest chatter circulating the internet stems from the fact that one of the final contestants in particular–Gospel Music Association Spotlight winner Jordin Sparks–is caught up in a political controversy.
There is a photo of the seventeen-year-old Jordin Sparks circulating various fan sites in which she is holding a "Stop Abortion Now" sign. There are also other pictures popping up on various blogs of Sparks' performance at an Arizona Right To Life event in 2005. This is leading some television critics and media pundits to jump to conclusions that the Christian Right is having an undo influence on the Idol contest by fixing the always flawless and completely democratic Idol voting process.
Will there be a psuedo-liberal backlash to the personal and political beliefs of someone not old enough to vote ? I still won't be tuning in to find out. However, I might give outspoken conservative Christian singer Rebecca St. James a call to warn her she now has some serious competition.