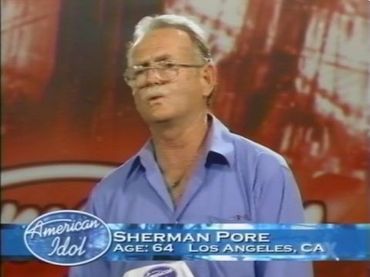 The auditions on "American Idol" can usually be counted on to make the audience cringe, but how often do they make the audience cry? Sure, "Baywatch" star David Hasselhoff and contestant Kathrine McPhee's father both teared upduring last year's finals, and judge Paula Abdul has a good cry at least once a season, but Los Angeles auditioner Sherman Pore poured his heart out and won the audience's.
At 64, Pore is far too old to qualify to audition for "Idol"–the age limit is 28–but on a whim he decided that he would start collecting signatures on a petition to allow him to try out. Sherman wasn't looking for the fame and glory that comes with the "Idol" title, though; he was attempting to buoy the spirits of his partner of 20 years, who was dying of cancer, giving her a bit of fun to focus on in her last days.
Coming in front of the judges–Paula, Randy, Simon, and guest judge Olivia Newton-John, herself a cancer survivor–Pore grapsed the petition and explained to the judges that his "lady love" had passed away two days prior to the audtion. When they offered their condolences, he said that he didn't want their sympathy, he just wanted to sing.
And sing he did. "You Belong To Me," to be precise. And on a night where such little talent was displayed, Pore demonstrated not only a better than passable singing voice, but the real power of song, the ability to express what cannot be said with words alone.
Every single one of those judges was touched when Sherman finished by saying that he thought the whole petition and audition process had "smoothed her passing and made it softer." And it brought out the softer side of notoriously nasty judge Simon Cowell, who stood up and asked to shake Pore's hand, saying, "You're a class act, Sherman. Thank you very much."
A truly touching moment on a show known for terse words and tacky talent.