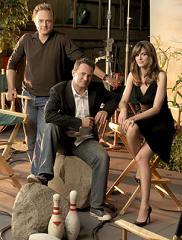 After three weeks, here's my spin on "Studio 60 on the Sunset Strip:" It's about redemption. And it's awesome.
Aaron Sorkin has long been successful in creating compelling and entertaining investigations into the humanity of characters who inhabit noble roles. "A Few Good Men," "The American President," and "The West Wing" all took us to the core of those whose titles we recognize but whose honest quests are new to us. He's long been a student–and revealer–of the human qualities essential to an authentic spiritual awareness. "Studio 60" offers more of the same.
The heroes are human, and humble. Matthew Perry's Matt Albie is a former writer at "Studio 60," a fictional "SNL"-like comedy show, who got fired. Bradley Whitford's Danny Tripp is a recovering cocaine addict who can't get bonded to produce the movie he's been offered, so he and Matt take the reigns of "Studio 60," from which they were fired four years earlier. Amanda Peet's Jordan McDeere is the rookie network president whose very hiring caused the company stock to drop and whose naïve but idealistic ideas may lead to a short tenure. Steven Weber's Jack Randolph is the network chairman charged with the success of not just the show, but the whole network.
Sarah Paulson's Harriet Hayes, one of the actors on the show-within-the-show, speaks for evangelical Christians but is clearly not the cheesy-cleany bore that tends to be the stereotype. She's also going through a breakup with Matt Albie and will now be working for him. Harriet is the first contemporarily saavy Christian character on a network show in a long time, made believable and human through the lame questions people ask about her faith and the fact she's going through a break-up with all the pain that brings to anyone.
By the time we get to Episode 3, which aired last night, redemption has established itself as a main theme of the show. Jordan's job is in jeopardy because a prior drunk-driving arrest and divorce make headlines. Matt bets $10,000 to give an actress confidence after she flat-lined in a focus group. Danny goes to blows with Matt as a means of convincing him that their firing from the show four years earlier won't happen again. Hard-head Jack is the first to congratulate Jordan for her success. The characters often say "don't worry about it," but they step over each other to worry for each other.
And, in her first "sermon," Harriet effectively pleads with Matt (her ex) to cut a funny skit that she questions for moral reasons. "It's a funny joke, but not a good joke," she says of the bit, which mocks a small-town high school. "The average income there is $18,000 a year, roughly what I'll be paid to perform this show tonight. Why are we making fun of them? 'Crazy Christians,' 'Science Schmience,' 'Bush and the Republicans' [skits the show aired that mock conservative and Christian values] are all fair game; it's hypocrisy and power. These guys are just trying to raise their kids."
In last week's episode, we saw Harriet and some of the other actors engage in a pre-show prayer, in which they invoked Jesus and asked for success. This week, we see Matt, Danny, and some others offering hugs and a huddle, which looks a lot like a pre-game prayer but leaves room for it to be, well, just a group hug. For artists, there's nothing quite as redeeming as applause, or a good focus group, or compliments, or just one compliment from someone we trust or love. Sometimes, approbation from just anyone with breath and a pulse will do. This time, though, the show ends with all of the above: applause and laughter, hugs and high fives, and a 109% retention rate.
As in "The West Wing," Sorkin often sends his clearest message through an episode's closing song. In this case it's "Will You Still Love Me Tomorrow?" which gets right to the core of conditional love that is our media culture. For Matt, Danny, Jordan, and their team, they're all loved and safe… until next week's show.