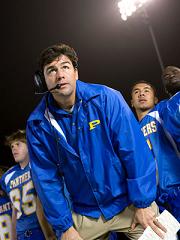 "Do you think God loves football?"
Well, if you live in fictional Dillon, Texas, where almost everyone worships God and football–not always in that order–then the answer is, obviously, yes. NBC celebrates the unique sports culture of small-town America, where sports and faith are often seen hand-in-hand every Friday night, in the new football drama "Friday Night Lights," debuting tonight.
The series is loosely tied to the successful book and movie of the same name, but the characters and setting are completely new. There's a new coach at the helm of the state champion Panther football team, and expectations are high for him as well as for Jason Street, the senior superstar quarterback. In tonight's episode, the Dillon Panthers begin their quest to repeat as state champions but run into some unexpected obstacles.
While the series is not as edgy as either the book or the movie, there is still much to appreciate about this show. This version of "Lights" still attempts to tackle, in its own way, a variety of issues, including race, poverty, and dysfunctional families. The football sequences are still hard-hitting, and Kyle Chandler is perfectly cast as the soft-spoken but fiercely competitive coach.
But if you want to know the biggest reason why I am cheering for the Panthers to have a successful TV season, you'll need to stay tuned for the last 10 minutes of tonight's episode. With a plot twist that I probably should have seen coming but didn't, "Lights" truly demonstrates promise by setting up two very different storylines that will clearly play out over the course of the football season. The final minutes also feature one of the most moving and authentic prayers I've heard on TV in a very long time. It's a perfect illustration of the way real life and spiritual life intersect in strange and difficult ways.
Even if you don't like football, the characters in this drama will feel familiar to anyone who grew up in the heartland of this county. While I don't know if the show can sustain its winning storytelling style as the season goes on, I sure will be rooting for it all the way.