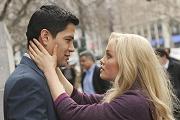 The ever-rising star television series creator and producer J. J. Abrams has done it again: "Six Degrees" (which premieres tonight at 10 on ABC) is riveting, complex, and promises something simple but essential for TV drama: good stories.
Reminiscent of the film "Love Actually" in more ways than one, the pilot opens with scenes from New York City–the subway, people passing on the streets, the skyline–layered with voice-over narration by one of the characters, Carlos. Carlos, a public defender who is single but seeking, reflects about love, relationships, how people meet and why, and most importantly of all, the roles that fate and chance play in the pivotal moments of our lives: when we meet that person who will one day become our spouse, our best friend, or perhaps even our worst enemy.
The storyline plays out from there, cutting back and forth between the daily lives of its six main characters–Carlos, Whitney, Mae, Damian, Steven, and Laura–encouraging viewers to piece together, bit by bit, each of their stories, and enticing us to guess how each character's story will become connected in some way, as they title implies will surely happen. If you loved or even liked "Love Actually," "Six Degrees" employs the same format of unraveling and intertwining the lives of a large group of people through relationships–friendships, romances, betrayels, breakups. If relationships in general fascinate you in any way, "Six Degrees" is a must-see.
But why am I calling a show about relationships classic J. J. Abrams? Well, for fans of all things J. J. Abrams, viewers will be pleased to see signatures from his three other hit shows–"Felicity," "Alias," and "Lost"–peppered throughout the storyline and casting of "Six Degrees." I am a longtime Abrams devotee, and in a rather classic J. J. Abrams fashion, simply by chance (or is it fate?), not by intention, caught "Felicity" from the get-go back in my early 20s and watched it faithfully until its final season, before moving on to "Alias," and more recently, "Lost."
In some ways, you could say that with "Six Degrees" Abrams has returned to his roots. "Felicity" was driven by the relationships between its characters, but also had a rather magical air of romance and fate as well. The show pivoted on what some would call daring and others foolish–the fact that Felicity, its central character, enrolled in NYU because a boy she didn't even really know at all in high school, Ben, was her soul-mate, and NYU was the college of his choice. Felicity believed they were "fated" to be together. That provided our introduction to Abram's fascination with chance, the mystical, the romantic, the religious, the spiritual; there are many things one could call it–the belief that something mysterious draws people together, makes them do things they otherwise wouldn't, shakes them with fear, drives them to the brink of despair, calls them to believe in some higher power than themselves, or makes them sigh with joy and gratitude. This notion of the "something beyond"–however differently it can be interpreted–is present in everything Abrams does.
The connections between "Six Degrees" and "Felicity" are rather obvious, and with "Alias" and "Lost" a bit less so, but they are still there for fans to find. Viewers will be pleased to find that the name of one character–Mae Anderson–is an alias. She has a secret, and we are not sure if she is on the side of good or evil, though we can't help but root for good. And most importantly of all, she starts the show a platinum blond and by the end has dyed her hair almost a reddish-brown. Sound familiar?
Then, echoing "Lost," is the ensemble cast (which includes the fantastic actor Campbell Scott as Steven) whose lives we know not only will be thrown together in multiple ways (though not on a deserted island)–but who also may have a past that connects them as well (as do all the characters on "Lost"). Though Abrams so far does not employ the signature flashbacks of character back-stories, as he does each episode on "Lost," it's clear that each character brings baggage to the table that will become important as their relationships evolve and tighten.
All this to say, whether you are new to J. J. Abrams or a longtime fan, "Six Degrees" is yet another fantastic contribution to television drama by the man who can do no wrong (it seems) when it comes to imagining an engaging story. Definitely tune in. I'd say that your horoscope today says its in the cards for you to take a chance on tales of love and friendship.