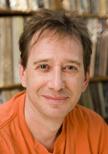 Innovative jazz musician John Zorn is having a good month–he's won two prizes, though most people only know about one of them. Even hardcore Zorn fans may not know that the jazz musician and founder/CEO of Tzadik Records took the prize for Best Blend of Jazz and Heritage at the Oyhoo Jewish Music and Culture Festival at the Jewish Music Awards ceremony, held earlier this month in Manhattan. And then, this week Zorn was named a winner of the MacArthur Foundation Genius Grant. Coincidence? (Well, since none of the other JMA winners were also MacArthur Fellows, yes, definitely a coincidence.)
The 25 MacArthur Fellows will each receive $500,000 in "no-strings-attached" funds, to be paid over five years by The John D. and Catherine T. MacArthur Foundation, a private, independent grantmaking institution dedicated to helping groups and individuals foster lasting improvement in the human condition. While I've never had $100,000 a year in no-strings income, I bet that would improve my human condition.
Tzadik Records, which Zorn helms, is a force for the unusual and avant garde in many genres, not just the "adventurous recordings bringing Jewish identity and culture into the 21st century," which the Hebrew label name–which translates to "Righteous"–evokes. The New Japan division provides "breathtaking, genre-busting music from the new Japanese underground," while Oracles celebrates "the diversity and creativity of women in experimental music making." And according to the website, "Tzadik's Lunatic Fringe series excavates the inner most views from some of the outermost reaches of human creativity, bringing to lightsome of the most intense creative acts of our time."
In addition to the new music that Tzadik produces, it also offers special editions of albums. For example, if you were seeking a special limited edition of Hemophiliac's self-titled album–and let's face it, who isn't?–you'd want to visit Tzadik Records. In their "special editions" section, you'd learn that such an item was available, featuring tracks like "Edema" and "Stretch Marks." Sadly, such items don't last. Even though the disc was sold only through two websites–Tzadik and Ipecac Recordings (whose slogan is–I'm not kidding–"Making People Sick Since 1999"), if you don't already have one, you missed it, since the set is now sold out.
Zorn's prize did not go unnoticed by Stephen Colbert, who, still smarting from his Emmy loss to Barry Manilow, decried the MacArthur Foundation's decision on Wednesday's show. Playing a clip of Zorn's unique–and, some might say, atonal–music, Colbert pulled out a top hat and cane and pretended to sitting-down-tapdance to it. Clearly Colbert felt shafted, and after his segment, in which he systematically insulted the awardees, stretched his hand out to the camera and said,"Genius Grant, please…" If only it were up to the Colbert Nation, Stephen, if only.