I love a story especially a great love story.
It's hard to believe but once you discard the emotional mud and muck, it's possible to find incredible happiness after divorce.
For that reason, I believe it's worth ripping off the band-aid of an unhappy marriage and dealing with the unbearable yet temporary angst. Versus continuing to remain and accept a low level of happiness.
We are given only one life to live.
After everything I have endured, I would still choose to leave again.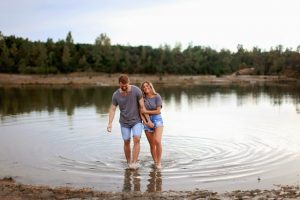 The alternative is to have remained with someone who failed to love me
At least not in any healthy or fulfilling sense of the word.
The good news? Divorce allows a do-over.
The opportunity to wander out into the world and meet someone in the future or rekindle with someone in the past.
Of course, I love the romantic notion of falling into the arms of a first love.
I'm a writer after all.
For me, it's not in the cards.
I have left no love unrequited.
Quite the contrary I have remained close friends with anyone I have ever dated.
They are wonderful men who are great husbands and fathers and who have equally as great marriages. Which makes me happy. So unless the boy who grabbed my pigtails in second grade suddenly shows up there will be no long-lost boyfriends Facebooking or emailing.
But I can live vicariously through others.
One such couple met while waiting tables during their teenage years.
For whatever reason, the relationship ran its course and eventually they parted ways. Even better? Their memory is they were each, not the one to break up with the other. In other words, he thought she wanted to break up and she thought he wanted to break up. Many years and a few divorces later. One found out the other was single and reached out and before long they were married.
Another two couples fell hard for one another in high school but eventually went on to marry other people and then again by the misfortune or magic of divorce they reconnected. One of these couples is now engaged.
I have another friend whose story I love the most.
They were two smitten fourteen-year-olds who met forty-one years ago on the day Elvis Presley died.
To pull at your heartstrings and confirm this Hallmark Channelesque romance…
It was at a country fair in a small town where the girl's grandmother lived. For the next thirty-seven years, they would lose touch. However, while attending this 'little' hamlet's 'big' events they would scan the crowd for one another to no avail. And then when they had finally stopped looking they bumped into one another in a restaurant.
What happened next?
The woman is now a farm girl who made her way permanently back to that small town to marry her guy.
And their smiles reflect those still beating teenage hearts.
There is something undeniable about a first love.
Especially long lost ones who are miraculously found.
So if the boy who grabbed my pigtails in second grade is reading this.
Call me.
Follow me on Facebook @Colleen Orme National Columnist
(Photo Courtesy of Pexels)
Instagram @colleenorme
Twitter @colleenorme
E-mail: Colleen.Sheehy.Orme@gmail.com