Catholics are devoted to their saints.
The saints provide valuable intercession to prayers and therefore, are often called upon for additional aid.
They signify hope in times of despair and hopelessness.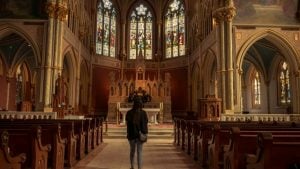 Not only for their faithful intercession but because of the tremendous suffering the saints endured while never abandoning their devotion to God.
When praying to a patron saint Catholics are boosted by the knowledge of this saint's true understanding of their particular plight. Be it, Saint Francis of Assisi known as the patron saint of animals or St. Anthony of Padua the patron saint of lost things.
Many Catholics have one saint, in particular, they turn most often to in prayer.
Yet there are also times when it feels necessary to pull out the big guns of faith.
And to call on the saints who can help when a situation seems impossibly lost.
The most notable is St. Jude the apostle but the good news is St. Jude may be the forerunner but there are a total of four patron saints of lost and impossible causes.
Catholics believe in the power of turning to our saints in heaven and asking for them to pray with us and to intercede on our behalf.
Turn to these four saints if feeling hopeless and in need of great miracles.
St. Jude of Thaddeus
It is said that St. Jude answers prayers of desperation because of his own unwavering faith. He is known not only for his intercession but for helping at the very last moment when it seems almost impossible. He is called upon by many and thus, has become one of the most prayed to saints.
St. Jude was one of the twelve apostles. Biblical scripture says it was Christ who inspired St. Bridget of Sweden in a vision to turn to St. Jude for aide. This inspiration that St. Jude would be the 'most willing to help' eventually led others to turn to St. Jude in prayer. St. Jude was martyred while preaching his faith something all of the apostles realized may happen to them.
It is customary to thank St. Jude in newspaper or print so his message of hope in hopeless causes will find its way to even more people.
St. Jude is the patron saint of lost causes and desperate situations as well as hospitals.
St. Rita Cascia
Saint Rita led an extremely difficult life and one filled with tremendous heartache. It is because of the impossible situations and trials she faced that she is known as the patron saint of lost causes. Upon her death, many wanted to visit her and a miraculous thing happened. She became one of the incorrupt saints meaning her body never decomposed and can still be visited in Italy.
She wished to devote her life to Christ from a young age. However, her parents arranged a marriage with a man who ultimately was abusive and unfaithful. He would die an untimely death just as he was redeeming himself followed by the death of her sons. St. Rita pursued religious life just to be turned away time and time again. Eventually, she was accepted into the Augustinian Convent. She is known most for her gracious and spiritually devout willingness to accept all of the never-ending hardships which were sent her way.
The rest of her days were devoted to God despite illness and disfigurement.
She is known as the patron saint of lost and impossible causes, mothers, marital problems, illness, infertility, widows, and abuse.
St. Gregory Thaumaturgus
St. Gregory is known for helping to significantly build the Christian faith. He was initially sent to minister only a few Christians in a predominantly pagan community. St. Gregory himself had been raised in a pagan household and at fourteen after the death of his father was converted to Christianity by his teacher.
As a bishop, he successfully converted many and ultimately the community became predominantly Christian. This is perhaps St. Gregory's greatest legacy. He was a supremely devout missionary who not only converted many but performed wonders which many attribute to him being called the Miracle-Worker.
He is the patron saint of lost and impossible causes, and forgotten causes.
St. Philomena
There is controversy in the Catholic Church regarding St. Philomena. She was not known to be a saint until her martyred grave was discovered in Rome in 1802 followed by many miracles. Those who experienced the wonder believed her a saint and that God had waited for the right moment to bring her forth. Yet, in the 1960's St. Philomena's feast day was removed from the Catholic Church due to Pope John XXXIII. However, many saints remained devoted to her and her miracles as well as priests. Her feast day is August 11th.
St. Philomena was said to have been sacrificed for her unwillingness to relent her virginity at the young age of thirteen after her parents promised her to a Roman emperor. He later took her life because she would never succumb to his wishes.
She is known as the patron saint of infants, babies, and youth as well as priests and lost causes. She became known as the Wonder-Worker because so many of her prayers for intercession have resulted in miracles.
Miracle after miracle and wonder after wonder are attributed to the intercession of saints.
Thus, making it abundantly clear they are simply waiting to be called upon.
The saints understand the loneliness and despair which accompanies suffering and the corresponding prayer and faith necessary to overcome it.
Feeling hopeless?
The saints in heaven are waiting to pray with you.
Follow me on Facebook @Colleen Orme National Columnist
Photo courtesy of Pexels
on Twitter @colleenorme
on Pinterest @colleensheehyorme
E-mail: Colleen.Sheehy.Orme@gmail.com