These are my girls Hazel and Phyllis.
I know, not your typical doggie names.
My girlfriend likes to say they sound like two old church ladies.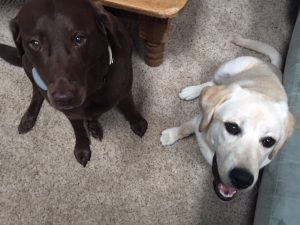 But these four-legged ladies are the antithesis of quiet and retiring.
They are wild.
Ten-year-old Hazel still acts like a puppy and Phyllis, aka, Philly, literally is a puppy at one year and two-months-old.
Thus far, I have been the adult two-legged mommy of three beautiful four-legged hearts.
My oldest, 'Emma' was a golden retriever.
She was what I called the 'un-dog.' She had zero canine habits. In fact, I used to joke she was as well-behaved if not better behaved than my children. I could look at her sideways and she would know the command I was thinking and immediately obey. She had the trademark disposition of the people-pleasing Golden Retriever.
My 'Emma' was peacefully gentle in every single way and very much the overly responsible oldest child.
My middle child 'Hazel' is a chocolate Labrador Retriever.
She is what I call the quintessential dog. She has every stereotypical doggie behavior. She digs, steals food off the counter, gets in the trash, breaks through the fence for a worthy deer, never listens and refuses to poop outside on a truly rainy day. Of course, her doggy momma finds this all a part of her charm. She is a canine rule-breaker. A wild child. And the greatest gift is she has never grown old because she maintains her youthful joy of life.
My 'Hazel' is sweet and lovingly complex and very much the sensitive and overly caring middle child.
My youngest 'Phyllis' is a yellow Labrador Retriever.
She is the one we didn't know our family was missing until she confidently sauntered her little chunk of cuteness across our kitchen floor. She is a lovable goofball, a big furry ball of fun who is ridiculously silly and makes us laugh. She is sassy and howls at us when she doesn't get her way, after all, she is the spoiled baby of the family. But she will retreat vulnerably at the sound of trouble. And when we are all together, she will lift her head happily and then crush it gently back into the carpet sensing all is right with her world.
My 'Phyllis' is joyfully sassy and every bit the overly theatrical youngest child.
A week ago today, I rushed 'Phyllis' to the vet's office.
She had thrown up and could not keep any food or water down.
Here's the thing. 'Phyllis' is a lover of inanimate objects.'
'Philly' doesn't need something to look, taste, or smell good to find it appetizing.
She will quite literally ingest anything, even socks.
I thought I was managing it fairly well.
My children and I know socks especially were to be kept out of her direct path. They could not be left lying around even next to the washer, and bedroom and bathroom doors were kept closed at all times as an extra precaution.
She would still try and grab other objects so we realized very little could be left unattended. But she did have her toys and each time she would tear off a piece or a limb I would retrieve it and throw it out. Of course, I realized she might swallow something; however, if I was watching and getting rid of the smaller pieces it seemed safe.
Plus, 'Phllyis' really loves her toys.
Her two older sisters could really take or leave them – possibly because they did not consider them a potential food source.
They said I got 'Phyllis' there just in time.
A part of a toy had lodged in her small intestine. They had to open her up and cut through her intestine in order to take it out. The first few days were critical. It is considered a major surgery and there were numerous risks and the stitches needed to hold her intestine together.
In fact, it would take the first five days to ensure she was out of the woods and additional time after that to keep her quiet and ensure continued healing.
I cried and cried.
At the possibility of losing 'Phyllis,' at her suffering, and because I blamed myself.
I knew 'Phyllis' would ingest anything.
And yet, I thought I could manage it.
I'm for all things dog especially toys they bring a lot of joy and can help with boredom among other things.
This is in no way an anti-toy sentiment.
I have a dog who will eat anything. Therefore, if it hadn't been a toy, she would have found something else and did many times before. They just passed through her or she threw them up.
I just wonder if I could have done more.
For instance, research the few toys which are somewhat indestructible and throw out all others.
Or not let my guard down once 'Phyllis' turned a year old.
My friend said these things might just be inevitable with some dogs and I know they are, especially with labs. My vet even said every breed does this and labs tend to be overrepresented in this category.
I just feel better getting the word out to others who have dogs who are lovers of all things inanimate.
Of course, I know my friend and the vet are correct.
Our four-legged children in many ways remain toddlers, their whole lives.
Even two old church ladies named 'Hazel' and 'Phyllis.'
Who are the antithesis of quiet and retiring.
**If you would like to see a picture of the toy and part which was taken out of Phyllis go to my FB Page @Colleen Orme National Columnist.
Follow me on Facebook @Colleen Orme National Columnist
Photo MIne
on Twitter @colleenorme
on Pinterest @colleensheehyorme
E-mail: Colleen.Sheehy.Orme@gmail.com