Very few people know this about me, even my closest friends. I just never told them even back then.
When I was just twenty-three years old and newly engaged, I said a prayer.
I asked God to give me a sign if my marriage was not meant to last.
I know, it doesn't sound congruent with most young girls dreams of walking down the aisle.
But I wasn't just any young woman.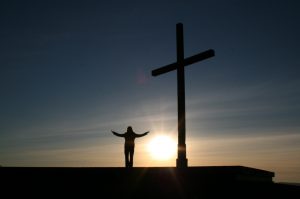 I was an adult in the body of a five-year-old child who watched her daddy walk out the door to essentially never return. Sure, he came back a few times here and there, but not long enough for any memories except for my five-year-old inner child to remember.
The really great ones… When he say songs in the car, took me for ice cream, snuggled next to me on the couch, and held my hand while I skipped beside him.
That is the gift I hold onto. Yet, I knew at a young age that I did not want to experience the pain of divorce twice in my life. Once as a child was enough.
I do not think I am the exception.
I know there are many children of divorce who passionately seek to not replicate that pain.
So I prayed.
I believe in signs. I always have. God's way of giving you a wink and a nod when you are unsure of your path.
I waited and watched.
I thought the sign would be earth shattering. Bells and whistles, alarms sounding. Something so alarming I would definitely know not to proceed with the wedding.
My husband never knew I prayed for a sign. Something which I now find curious. Not about him but about me. My life is an open book. I will talk to a stranger if they will listen. Yet, I never told him I said this prayer. Perhaps, because I thought it might hurt him. When in reality it had nothing to do with my love for him and everything to do with me.
He was the love of my life.
I was absolutely afraid of marriage, but I was willing to do it if it meant I would lose him.
He had given me an ultimatum.
Either we get engaged or he was moving on. It seemed reasonable. After all, we were dating nearly five years by the time he announced it. He was anxious to get married and start a family. I was looking to avoid all long-term commitments.
So I said, "YES."
Might I add against my greatest fears!
Again, not for doubt of my love or him, but for what I already knew.
Two people could love one another more than anything in this world. My parents did far after they had parted ways. And it was not enough.
The year we were engaged we bickered. Not a lot, but enough. My mother had always said she had never seen two people get along so well. So the arguments were unusual. Of course, knowing what I now know about counseling – we weren't two people who had never gotten along so well. I was a pleaser and a fixer who avoided arguments at all cost. We didn't fight because I was always making the peace. And of course, we were young and still in the party phase. Thus, there wasn't a whole lot to argue about.
So why am I recounting this story?
When I finally had to face the end of my marriage, I will not lie. I was angry.
Even I can't believe the depth of faith I had at such a young age. Because I absolutely would have walked away from getting married to the love of my life if I had gotten a big sign. The arguing wasn't earth shattering or unusual enough to get my attention. I knew lots of couples who suddenly started arguing when they were planning their weddings and involving families and they were arguing far more.
Therefore, I confidently got married.
And my family and friends confidently backed me. It all seemed right.
When years later I wept on tear soaked sheets I yelled at God.
I was so faithful and so devout in my beliefs I would never have done this if I didn't believe it was right!
I prayed to you!
I told you that I could never again feel the kind of pain I felt as a child. I told you I wasn't strong enough to do this twice in my life. I told you I would walk away if I wasn't doing the right thing. If I wasn't getting married for the rest of my life. To just give me a sign. How many twenty-three-year-olds pray for that? Most young girls just want to marry who they want to marry. They pray for what they want. Not the grace to walk away from what they want if it isn't meant to be.
I put all my faith in you and I would have walked away if I had gotten a sign.
That is how strong my faith was when I was just a baby in life. How could you let this happen?
How could you lead me down this path?
It took a very long time to reconcile my faith with the ending of my marriage.
Again, because I hadn't asked God to give me what I wanted. I had asked him to show me the way if it wasn't meant to be.
I often joke that if someone had said, "One day you will write about divorce," I would say, "Thank you very much! I don't want to be a writer that badly."
But God had a different plan for a young twenty-three-year-old girl who didn't want to duplicate the youthful losses she had suffered.
He didn't send any big earth-shattering signs.
Because it wasn't just her He was helping.
He was using her to help the other twenty-somethings.
(Photo courtesy of Pexels)
Follow me on Facebook @Colleen Orme National Columnist on Twitter @colleenorme
on Pinterest @colleensheehyorme
E-mail: Colleen.Sheehy.Orme@gmail.com
www.colleensheehyorme.com