I am having lunch with my friend. I will call her "J. Law." As a nod to the actress Jennifer Lawrence and her unbridled spirit.
I am ready to lend a sympathetic ear, pass her a napkin, buy her a drink – ANYTHING to ease the pain of a cheating spouse! I'm ready to cry. To hold her hand. To pick up the pieces.

Only "J. Law" is handling this loss with spunk. Makes sense. After all, everyone does grieve differently.

In between bites of fish, sips of tea and laughter, all I can think is "God help the man that messed with this little firecracker! He certainly did not know what he was doing!"
"J. Law" delivers the material and timing of a seasoned comic.

The stories may or may not (an attempt to protect the not so innocent) involve a Facebook exposé, some mysteriously forwarded e-mails, some calls to the 'other woman,' and some discarded clothing. They may also involve some very clever 'in her own mind' reverse fairy tales.
Do you blame her????

This was no recreational affair. Not that there is ANY good kind of affair, but the long drawn out, double life affair…OUCH!
In between spit out your food type of cackling, I am relieved. At least for "J. Law." That her bubbly, comedic personality has remained just that. My bubbly, comedic personality hitchhiked away from my sorry, sniveling self a long time ago. AND – my marriage didn't even end because of infidelity.
But…I did say, as I always do, that we all grieve differently in divorce.
I also think that because "J. Law" is a bit younger it's a divorce advantage. Not for everyone. The world is not black and white, but sometimes we have a greater spunk that propels us to swim and not sink. A fighting spirit and a gumption that can pale with age.
Of course, "J. Law" has also cried those hurtful demons out. The ones that a guy who never deserved her in the first place burdened her with. And most certainly, like the rest of the injured divorcing she has been stressed and scared and felt lonely at times.
Oh, and did I mention anger? Pretty sure that emotion is at the top of the list. After all…affair, long-term, co-worker. You get the picture. It's all bad. It's double Band-Aid, gouge too deep to look kinda bad.
I attempt to offer some wisdom only honestly she's actually lifting me up.
We finish our lunch.
All I can think is what a stupid guy! No, not stupid an idiot. No, not an idiot a moron – for 'fooling around' I mean 'fooling with' this beautiful firecracker. He never knew who he had AND he never knew who he was dealing with.
He won't find another fairy tale like "J. Law."
She will find her true Prince Charming. The villain, well, he will no doubt play the same role in the next story.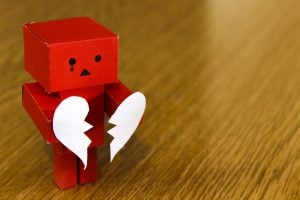 (Photo courtesy of Pexels)
Follow me on Facebook @Colleen Orme National Columnist
on Twitter @colleenorme
on Pinterest @colleensheehyorme
E-mail: Colleen.Sheehy.Orme@gmail.com
www.colleensheehyorme.com