The hard times in life demand both inspiration and spirituality. It is what anchors and sustains people through adversity. It provides the hope and the promise to soldier on from the valley to the peak as life often necessitates.
The movie "The Secrets of the Keys," will not disappoint anyone craving motivation to conquer hardship and the faith to ground it. The film was just released in January of 2016 and has already won two Gold awards from the International Independent Film Awards for Concept and Original Song.
The movie centers around "The 7 Keys to an Empowered Life:"
Appreciation, Harmony, Passion, Faith, Courage, Vibration, Empathy
The film is the first of a new genre and one of a kind. It is not the stereotypical, motivational movie, but rather an engaging blend of humor, expert cameos, and compelling stories within a fictional setting. It is a refreshing new twist, as the fictional aspect pulls the viewer into the experience. This is a stark contrast to the typical motivational films which have an expert speaking directly to the audience.
"My goal has always been to empower people," says Writer/Producer/Co-Star Robin Jay. "Bored with 'talking head documentaries,' I realized that before we can empower anyone, we must first engage them. I became inspired to create hybrid films that would offer entertaining and fun narrative stories, plus feature cameos from some of the top experts of our time. Their deeply personal stories illustrate the teachings that help us to grow spiritually and attain greater enlightenment."
Jay has assembled a fascinating and diverse group of expert personal development speakers.They include International Business and Success guru Brian Tracy, Actress/Singer/Songwriter/Speaker Gloria Loring, Spiritual Leader Rev. Michael Bernard Beckwith (recently featured on Oprah's SuperSoul Sessions), Spiritual Entrepreneur, Philanthropist and Teacher John Assaraf, Author of "The Four Agreements" don Miguel Ruiz, Author of "Saved by the Light" Dannion Brinkley and nine other experts that are equally as compelling.
The movie is based on the character 'Elizabeth' (played by Jay) who receives a troubling diagnosis which leads her on a spiritual path of encouraging enlightenment. To guide Elizabeth on her journey is her appealing and warm spiritual guide, 'Gwen' and Gwen's adorably goofy spiritual sidekick, 'Goldie.'
A few of the film's highlights include:
Gloria Loring addresses driving through her own intensely personal grief. She speaks of making space for the pain we experience in life and taking the time to sit with it.
Loring says that one must ask themselves, "Are these thoughts coming from the mind…negative…defeating…making me helpless and hopeless…pressing me down? Are they ruining my enthusiasm for life? Because enthusiasm means to be filled with the Spirit of God; 'Entheos,' meaning filled with God."
The words of Rev. Michael Bernard Beckwith are profound. At one point, struggling with her diagnosis,"Elizabeth asks Beckwith, "How am I supposed to have faith when I have so little to believe in?"
Beckwith responds, "This is the perfect place to start – with nothing. That's where faith comes from." He goes on to say, "Everything comes out of nothing. You are beginning in the right place."
Brian Tracy speaks of product development and not only does he not disappoint as a renowned expert in his field, but his message of business success is one that also speaks well to the area of success in personal development.
Tracy says, "You come up with a product idea. This is a great product. This could really help people to improve their life or work in some way." Tracy goes on to speak of the profound correlation between product development and customer development and how crucial it is to the success of the product. It not only speaks to his expertise in business, but to the parallel of becoming the best personal self (aka product) an individual can become. By doing this, one provides the world (aka the customer) with a far better contribution of themselves.
The expert messages are captivating, adding a layered dimension to the film and its message.
The setting of the movie is equally as mesmerizing. If you watch closely, you will notice an abundance of spiritual artifacts which subtly reinforce the faith-infused story. It is actually quite fitting that the movie was filmed in a home known as "The House of Angels."
The 'key' to life is the best possible relationship an individual can have with themselves. It allows them the healthiest foundation for building relationship with others.
This movie is a spiritual experience.
To watch the trailer and/or download the movie here are the links:
The trailer, 3:16:

the link to opt in for Free 15 minutes
Http://TheKeyMovies.com
www.thekeymovies.com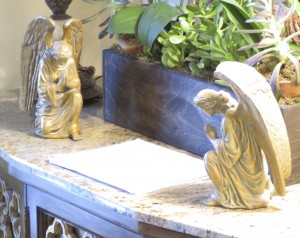 (Left to right: don Miguel Ruiz, Robin Jay, Rev. Michael Beckwith, Dannion Brinkley)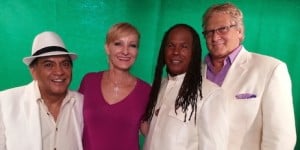 (Gloria Loring and her son Robin Thicke enjoy a special night out at the GRAMMYs)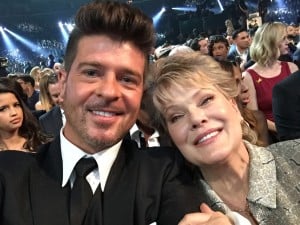 Follow me on Facebook @Colleen Orme National Columnist
on Twitter @colleenorme
on Pinterest @colleensheehyorme
E-mail: Colleen.Sheehy.Orme@gmail.com
www.colleensheehyorme.com