My son is getting ready to go somewhere. I can see the visible heartache. I know what is bothering him.
"Why do you care?" I say in exasperation. "If you peel back the layers. It's one person. Only one person that is weighing you down. Every single other person believed in you. Why are you giving that one person so much power?"
Not long after I am walking with "Cookie" and "Candy." We chat as we always do about all things life.
At one point, I am thinking about all of the people in my life who have gotten me through this and all of their overt and subtle kindnesses. Only I keep dwelling on a couple who have voiced their opinions quite strongly about still wanting the 'old' Colleen back and how uncomfortable they are with the 'new' Colleen.
The truth is that tally would come to numbers that could be counted on just one hand.
So why am I giving those few people the power?
I think for two reasons. Like my son. I never just cared. I cared deeply. Secondly, they were at one time, people of great influence in my life.
Here's the problem. That one person in my son's life that temporarily disoriented him from knowing who he was – He was wrong. His actions were based on his own insecurities.
We give so much credit to people's opinions. I used to weigh heavily in on my husband's opinions. The truth is…it is actually quite shocking how little my husband actually knew me. He saw me through his own ego's lens.
So it stands to reason, that there were also a few others in my life that were viewing me through their own lens. A few that had a little too much to say. If they only knew I had a little too much to say about them at times only I never did. I wouldn't have been so bold, yet they didn't see their apparent lack of boundaries as such.
I remember one of my best friends from high school reminded me that after she lost her father, I said, "Some will surprise you and others will disappoint you." Now certainly grief is not a time for judgements. It just sort of happens. You walk into the church and you see someone sitting there that surprises you. Then months later you suddenly realize there is someone close to you that you never heard from. You don't mean for this to be a defining time. It just is.
I still have so many in my life that love me despite my poor choices and length of misguided devotion to my marriage. Actually, when I write it that way it becomes even more clear that those handful of people should have no credence in my life. I didn't lose anyone because I mistreated them. I lost them because I stayed with someone who mistreated me and then wouldn't work on our marriage and then wouldn't leave me either.
I shouldn't say lose because they are still in my life only I hear their subtle disapproval. In reality, I have so many friends that never lost sight of me nor walked away from me. So why do I care about less than a handful?
Why do I give them so much power?
For the same reason I couldn't leave my husband even though he wasn't a good friend to me. I care too much.
People who walk away from you at your worst, never had the ability to love you at your best.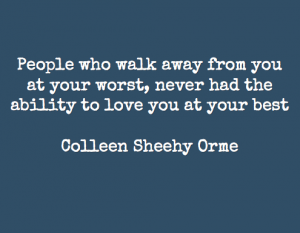 Follow me on Facebook @Colleen Orme National Columnist
on Twitter @colleenorme
on Pinterest @colleensheehyorme
E-mail: Colleen.Sheehy.Orme@gmail.com
www.colleensheehyorme.com