My friend Trixie and I are talking about fun. 
"People want to be around fun," says Trixie.
"I used to be fun," I say.
Scratch that. I was a one woman stand-up, quick witted, last girl to leave the party kinda fun.
"I'm not really feeling the fun so much anymore Trixie," I say.
"You gotta be fun," she says. "People wanna get away from their own problems for a while. People love fun."
I used to joke with my husband that I never feared the blonde bombshell. On the contrary, I feared the funny girl, holding a Stella while everyone roared with laughter. My husband was not attracted to the sultry type. He was attracted to the fun, party girl. We matched quite well that way.
Nah, sadly, I never feared sexy. I'm quite aware of what that says about me. Really, I would love to be the sexy girl. I would just need to talk a lot softer and a lot less. Something that is very hard for me.
So when divorce stalked my fun, let's just say it was a little overly obvious that I lost my mojo.
What can I say?
It's just not all about the 'party' for me anymore.
No, it's not about growing up. It's just my current ebb and flow. I gotta wade through the 'not so fun' to be 'fun' again.
I am also varying my definition of fun. I want to look below the surface, peek under the lid and dig a little deeper in between the Stella's and the laughter. Who knows, maybe slowing down between sips, might bring a softer, sexier me (allow me my potential silver lining).
So divorce has slowed my fun.
When I lost both of my parents in my twenties I was told I should move on within a few months. It was well meaning advice doled out by only a few. The naive wisdom of those who had yet to lose one parent let alone two.
More than 50% of the population gets divorced.
Fortunately, most of the people I know won't experience this utter devastation. Here, in the middle of suburbia I don't meet the majority of that 50%.
I'm not fun. And I am so okay with that…for now.
I'm working on my 'sexy.'
(Please share my column if you or anyone you know is 'funless' and working on your sexy in divorce)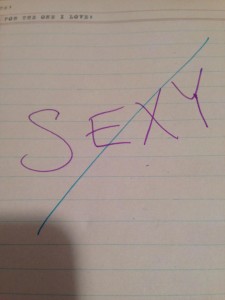 Follow me on Facebook @Colleen Sheehy Orme
on Twitter @colleenorme
on Pinterest @colleensheehyorme
E-mail: Colleen.Sheehy.Orme@gmail.com
www.colleensheehyorme.com