When I set the table for  Shabbat or Yom Tov, my children immediately recognize that this is no ordinary meal. It's not just that the piles are cleared off the kitchen table (we don't have a dining room), and that I've put out a tablecloth and taken time to fold the cloth napkins rather than toss them vaguely near each plate, though these factors certainly raise the bar slightly. It's not just that I've often spent many hours preparing the meal, rather than opening a box, a can, a jar and a bag. It's not just the nicer dishes. It's the ritual objects – usually the candlesticks, the kiddush cup and the challah cover – all of which let my kids know that this time, we aren't just going to sit down and plow into the food. We're going to pause, and take time to set this meal apart in ways that are not simply aesthetic.
Certainly, Thanksgiving gets the special treatment. I spend a long time cooking, and I fancy up the table (though we can't actually sit at the table because we can't all fit.) But we do tend to plow into the food. And I'm not sure if I've ever succeeded in setting the meal apart in any meaningful or spiritual way.
This year, I took a cue from Freedom's Feast, an organization dedicated to enriching the celebration of American holidays so that we can "pass on the stories, values and behaviors we care about to our next generation of American citizens and leaders." We've tried their seder-like 10-minute ceremony in the past, but it turns out my kids (and, well, I) are equal-opportunity-haters of responsive reading, whether from the siddur or the internet. So this year, I tried a different approach (which I'm also doing with my Kindergarten class tomorrow.) Zoe and I each created a ritual object for the table – a gratitude plate.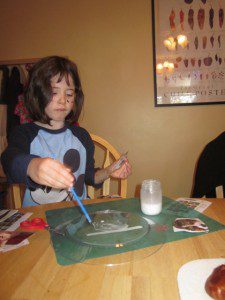 We started with magazines and photos and a clear, sturdy plastic plate. I would have used glass but didn't have the budget to buy those for all my students. We looked for pictures and words that would represent things we are grateful for and cut them out. Then we painted watered down elmer's glue on the BACK of the clear plate, and laid the pictures upside down on the glue so that they would show through the plastic. After putting down each picture, we painted more glue on top of it. I would have used Mod Podge, but again, I was working with a budget since I wanted to use Zoe's plate as an example for my students.
Zoe ended up choosing only pictures of pets. ( Well, and one doughnut.) At first I was a tiny bit annoyed by this. I tried to make some gentle suggestions and cheerful hints  – "Look at this BEAUTIFUL PICTURE of you and your sister!" -As always, she was not swayed; she knew exactly what she wanted. It took me a few minutes to realize that her choice was not surprising, given that our beloved dog Zev died just a little more than a month ago.
Once I actually stopped to consider her choice, rather than try to influence it, I was reminded that  we never had any formal ritual to mourn or remember Zev, and his absence is still terrifically palpable. Freedom's Feast offers another suggested ceremony for the Thanksgiving table called a Memory Harvest, a gathering of stories of those who are no longer her to join us at our celebrations. While I've learned my lesson about imposing scripts and songs on my family before we dine, using Zoe's ritual object as a springboard for storytelling might just work.
I'll let you know how it goes. In the meantime, I'd love to hear about any strategies you have for making Thanksgiving meaningful to you and yours.