I'm sitting in my kitchen right now, with a pile of cookbooks in front of me. Odd, because I rarely use cookbooks anymore. I almost always go straight to the internet to find my recipes. But, I'm feeling the need to browse. With three days of meals to cook, since Rosh Hashanah and Shabbat are back to back, and lots of company coming, I'm trying to concoct a plan.
I stumbled across a recipe that was faintly stained with spices on a page that was nearly glued to the opposite page – a sure sign that I'd made the dish before. It was Seven-Vegetable Couscous from Nava Atlas' Vegetarian Celebrations, and once I began to read it over I remembered how delicious this traditional Rosh Hashanah dish is. I've put it on my menu for the second night, and since the cookbook is out of print, I'm hoping it's fairly legal to post the recipe here: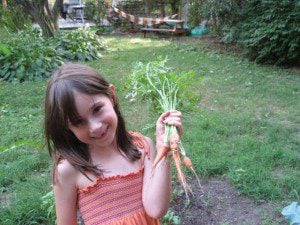 1 1/2 cups couscous
1 tablespoon reduced-fat margarine
1 teaspoon turmeric
1 teaspoon salt
1 tablespoon canola oil
2 medium onions — chopped
2 large carrots — sliced
1 cup finely shredded white cabbage
1 medium turnip — peeled and diced
1 medium yellow summer squash — diced
1 1/2 cups canned or cooked chick peas
1 1/2 cups diced ripe tomatoes
1 teaspoon freshly grated ginger
1 teaspoon cinnamon
1/2 teaspoon ground cumin
1/2 teaspoon coriander
1/2 teaspoon turmeric
1/2 teaspoon salt
1/3 cup raisins
1/4 cup chopped fresh parsley
1/4 cup toasted sliced or silvered almonds
6 to 8 servings
Since seven is a lucky number in Jewish tradition, Sephardic Jews serve a
seven-vegetable soup or stew such as this one for the holiday meal.
Cover the couscous with 3 cups of boiling water in a heatproof bowl. Cover
and let stand until the water is absorbed, about 15 minutes. Fluff with a
fork, then stir in the margarine, turmeric, and salt. Cover and set aside.
In the meantime, heat the oil in a soup pot. Add the onions and sauté over
moderate heat until translucent. Stir in the carrots and cabbage and sauté
until crisp-tender, adding small amounts of water as needed to keep the
bottom of the pot moist. Add the remaining ingredients except the last
2. Cover and cook over low heat, lifting the lid to stir frequently for 15
to 20 minutes. Add water in small amounts until the mixture has the
consistency of a thick, moist (but not soupy) stew. The vegetables should
be tender but still firm.
Before serving, arrange the couscous on the outer perimeter of a large
serving platter. Pour the vegetable mixture into the center. Sprinkle
with the parsley and almonds. Guests should place a small mound of
couscous on their plates and top it with the vegetable mixture.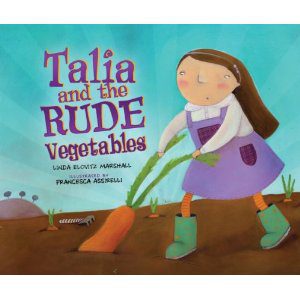 This dish, whose seven vegetables are meant to represent good luck in the new year, is so beloved that it's featured in a new book that I recently received from Kar-Ben, Talia and the Rude Vegetables. As an enthusiastic but very amateurish gardener, I'm a sucker for any Jewish themed story that includes a garden. I loved the images of a little girl trying to fulfill her grandmother's request for seven "rude" vegetables to cook her stew. Talia pulls from the soil a crooked carrot, some terrible turnips, an ornery onion, and, pretty soon she has the fixings for her grandmother's rude vegetable stew, plus extra for tzedakah. It's a great message, and I'm looking forward to reading this book for my Kindergarten class, as in a week or so we'll be harvesting the pumpkins from our garden and sharing them with our next door neighbors, the Northamtpon Survival Center.
What's on your holiday menu? I'm always looking for new recipes and would love to see your favorites in the comments or on the homeshuling facebook wall.