When my husband and I got married, I always imagined we would become a musical family. Not a performing musical family, like the Von Trapps, mind you, but a family that sat around and played music together. It was a reasonable assumption. After all, Keith entered the marriage with six accordions, three guitars, a bass, a dobro, a banjo and a lap steel guitar and has since acquired an acoustic bass and recording equipment. I already had a guitar and piano, and was in the habit of spending a good twenty minutes a day singing with my first grade students class.
And yet? Not so much music goes down around here. Ella has started violin lessons and Zoe has her own small set of electronic drums. Every once in a while one of the adults in the house picks up an instrument and noodles around a little, but really, playing music has gone the way of most of our other pre-childrearing days hobbies. More or less out of service.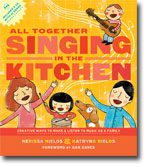 The fact that we don't regularly sing and play music together makes me sad. And guilty. So, I can't tell you how excited I was to get a review copy of Nerissa and Katryna Nields' new book All Together Singing in the Kitchen – Creative Ways to Make and Listen to Music as a Family. This book (which comes with a cd) is a comprehensive guide to turning any home into a musical home. And you don't have to own six accordions, four guitars, two basses, a dobro and banjo, and, well, you get the idea. You don't have to know how to play an instrument, and you don't have to "know" how to sing. With chapters that range from "Keeping the Beat" to "Musical Games" to "Homemade Instruments" the book gives an enormous amount of practical advice for adding even just a little music to your family.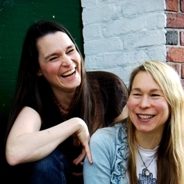 What I liked even more than the practical advice, is the perfect tone (no pun intended) that Nerissa and Katryna Nields strike in their shared voice that authors the text. It's so easy for parenting books to be preachy or condescending or self-righteous or whiny or trying-too-hard-to-be-snarky, or pretending-to-be-self-deprecating-while-actually-patting-oneself-on-the-back. (This is why I hate most parenting books. Also why I gave up on the idea of writing my own.) Katryna and Nerissa manage to come across as gently encouraging and completely human and just the right amount of funny. Which is just what they are like in real life and one of the reasons I've written about them before, even though their work has ostensibly nothing to do with Jewish parenting.
In the case of this book, though, there really is a connection to Jewish parenting. There is a long tradition amongst observant families of singing zemirot, shabbat songs, around the table before and after dining. I didn't learn of this tradition until I was in my 20's and going to yeshiva on the Upper West Side, and I immediately fell in love with it. But, most of the traditional zemirot are long and full of complicated Hebrew (and Aramaic) words, and my non Jewish husband (who still just mouths the words to Shalom Aleichem) is probably never going to enthusiastically sing eighty-five verses of Tzur Mishelo. Does this mean we can't sing around the table (or the living room) on Shabbat? I hope not.
All Together Singing in the Kitchen has inspired me to re-imagine shabbat singing. We could start with songs everyone knows, which aren't even Jewish songs, drawn from the Appendix at the end of the book and the accompanying cd. We could also add some much simpler traditionally Hebrew songs, using some of the guidelines laid out by Katryna and Nerissa – songs with easy choruses, rounds, call and response songs, songs that only require three chords, and especially songs that we actually love and are fun to sing.
So, here is Homeshuling's brief start of an appendix to All Together Singing in the Kitchen – Songs for Shabbat – complete with videos. The title links to the lyrics in Hebrew transliteration and English translation.
http://www.youtube.com/watch?v=Z6DuA2MVhA8&feature=related
Hineh Ma Tov – awesome gospel version
David Melech Yisrael – Carlebach Version
An amazing version of lcha dodi (everyone could manage the chorus and leave it at that)
If you've stuck it out this long, then Mazel Tov. You have the chance to win a free copy of All Together Singing in the Kitchen! Please post a comment of a song you love to sing with your family, or you would love to sing with your family, if only you sang with your family. (Which you will, no doubt, if you win the book. Or if you buy the book.) You have until 6 pm on September 25 (East Coast time) to enter.