There are some topics that want, or feel I ought, to teach my children about, but I just don't know how. Maybe I don't know where to start, or what language to use, or what information is developmentally appropriate to mention. For some parents, that might be the where do babies come from conversation. But for me, well, I worked at Planned Parenthood in college, and insisted on using grown up words for body parts when my girls were still in diapers (after 35 years of never uttering the world vulva even once,) so I'm not quite so stymied by that one. For me, the tough topics are God, and prayer. Subjects I have far less understanding of and comfort with than "the facts of life."
As I mentioned in a
recent post
, I'm generally critical of children's books that emphasize a message or lesson over a story. But sometimes, as a parent, I
want
need
a book to help me cover the thornier topics of life. And while it's nice if said book also has a great story and beautiful illustrations, sometimes the book can be a near perfect fit even if it doesn't. After all, not everyone can write a
Bagels for Benny
.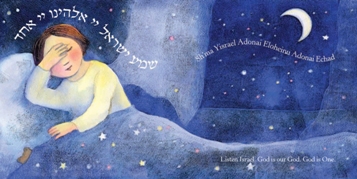 I recently received two books from
EKS Publishing
that serve just this purpose –
The Bedtime Shma – A Good Night Book
and
Modeh Ani – A Good Morning Book
. Neither of these books tells a story. At all. They are more like poems, or interpretive prayers. They combine very attractive and interesting illustrations with text taken from traditional Jewish morning and evening prayers. They express gratitude, and direct that gratitude towards God. Something I think is important to do, and important to model, but something I don't do often enough. Especially not aloud, in front of my children.
I plan to introduce both books to my girls, not because I expect them to love them. I will read them aloud in the hopes that the books will be conversation starters. That they will put words into our shared vocabulary that I might not ever utter otherwise. I'm not sure how they will respond to lines like "I rest myself in God's hand" but I'm genuinely interested to find out. And without books like these, I doubt I would ever ask.
Obviously, reading a book isn't a substitute for my figuring out what I want to teach them about prayer, but it does buy me some time. The only reason I'm delaying is, well, I'm not sure I'm ready. But I also know I shouldn't delay too long. I might have something to teach them. More likely, they'll have something to teach me. But if we don't talk about it, I'll never know.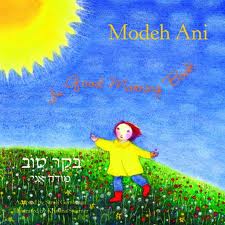 EKS Publishing is offering a free copy of
Modeh Ani
, a 2011
Sydney Taylor Honor Book
, to one lucky reader. Leave a comment below by the end of the day on January 30 for a chance to win. And because I love to learn more about you, please mention how you first found your way to
Homeshuling
.
My second piece on Jewish books is up on Kveller. This time I've written about my own picture book,
A Mezuzah on the Door
. Please check it out!
Shabbat Shalom!