My family was a little confused when I brought these home from the supermarket today.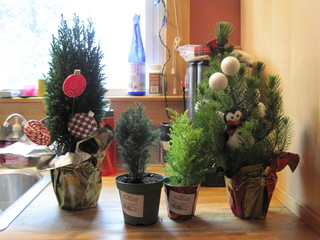 Why would I buy miniature Christmas trees at all, much less on the day after Christmas? Because they were on sale, of course! These four trees were on clearance at the supermarket and I am sure that once I strip them of their decorations, they will make for a great, as of yet undetermined, project for
Tu Bishvat
, the Jewish new year of the trees, which is only a few weeks away.
Last year, I held a contest on the blog for the most creative way to use discounted Christmas merchandise and I've decided to make it an annual tradition. Here's a link to
last year's entries
, and here's the
winning entry
from 2009.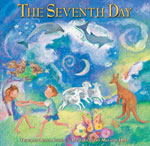 So, give me your best ideas by posting them as comments below. And since Christmas fell on Shabbat this year, the most creative entry (decided by me) will receive a copy of
The Seventh Day
by Deborah Bodin Cohen. It's a lovely shabbat book published by Kar-Ben that frames shabbat as a work of art unfolding in the hands of the Creator. Entries are due by the end of the day on January 2.
Good luck!