written for The PJ Library September e-newsletter
New Year's is a time for resolutions – do more yoga, eat fewer sweets, spend less time on facebook…..sometimes we follow through; more often we can't, or don't. Fortunately, those of use who celebrate Rosh Hashanah, the Jewish New Year, have a second opportunity to reflect on our lives. The High Holidays are a time to reorient, to see where we've "missed the mark" and figure out how we want to get back on track.
Even as someone who actually gets paid for Jewish parenting (well, sort of), I know that I have not succeeded in engaging my kids in Jewish life as much as I would like. This past year, I've often lost sight of the very essence of my blog (it is called HOMEshuling, after all) and tried dragging taking my children to shul more often and for longer than we could manage. Why does shul work for some families, but not ours? Because in the end, I don't really like going to shul. And while that's probably something I should work on for myself, my goal for the year 5771 is to focus my energy on Jewish things I love, or think I would love, doing. Move over "you're doing this because I had to" and "you're doing this because I think you should." Welcome "we're doing this because I really, really want to."
Care to join me? Here's my list of top ten authentic, traditional Jewish practices that are truly fun for kids and families. Some of them we already do, and some are on my personal list to try for next year – I've marked those with an asterisk. Stay tuned to see if I follow through.
1. Blow a shofar. Let your kids blow the shofar.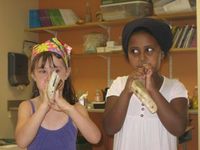 It's a tradition to hear the shofar every day, except Shabbat, during Elul, the month before Rosh Hashanah. Besides waking my kids up with the shofar every morning (which they don't love so much) I leave the shofar out all month where they can play and give it their best blow. Over and over again. You can find a small ram's horn shofar for under $25 on line – trust me, you don't want a plastic one, unless you really like the sound of vuvuzelas.
2. Do Tashlich at a beach or river
While casting one's sins away on Rosh Hashanah is not a terribly accessible concept for young children, tossing bread into moving water surely is. It's a reminder to seek out somewhere really beautiful on the day that celebrates the creation of the Earth. Here's an article about some wonderfully
creative tashlich experiences
. Any local readers want to help organize a family gathering at Musante Beach?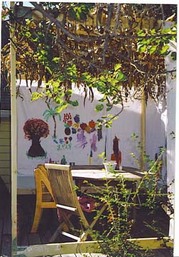 3. Build and decorate a sukkah
The hardest part about building a sukkah is doing it for the first time. We bought a kit to get us going from
these folks
. We make the walls out of white sheets and every year invite friends over to paint new murals on them. We haven't spent the whole night in our sukkah yet, but we've had a lot of fun trying.
How often do you take the opportunity to show up at someone's door and surprise them with a gift of food? Not only do we enjoy the baking of treats for our Purim baskets, but we spend a day making a decorating handmade containers out of recycled materials.
Read more about our mishoach manot
here
,
here
and
here
. You'll want to bookmark my mom's hamentashen recipe – trust me.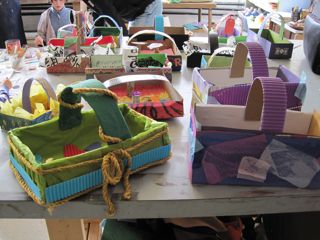 5. Search for chametz and burn it the next morning
On the night before Passover, my husband has the job of hiding 10 hunks of bread. We dim the lights, grab a candle lantern and a feather, and play a game of "hot and cold" trying to discover his sneakier-than-last-year hiding spots. This activity is not complete until you set the chametz (leavened bread) a flame the next morning. We usually do it in the grill, but if there were a community fire, we'd surely go there.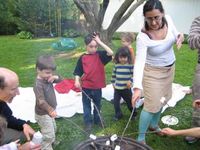 Don't forget the marshmallows. Enough said?
7. *Sing and dance on Tu B'Av
Tu, or the 15th day of, Av is a not-very-well-known holiday of love. In ancient times unmarried Jewish women dressed in white and danced in the vineyards. This year, I had promised my daughters we would take a guitar down to the beach and sing and dance, but it was still 95 degrees at bedtime, and we never made it. Next year, God wiling.
Did you know that there it is a mitzvah to go outside and leap towards the new moon? Really. I can't believe I've never done this with my children before. Here's a great article about
Kiddush Levanah
.
9. Bless your children at Shabbat dinner
This doesn't quite count as fun, but it's a ritual my daughters look forward to every week. On Friday night, I whisper a
traditional blessing
in each of my daughter's ears, and then my husband and I share aloud a special memory of each child from the past week. We might say "I was really proud of how hard you worked at your swim lesson this week," or "I loved reading in bed with you this morning." Sometimes the girls even ask to bless us.
10. *Cuddle and sing the bedtime shma
My kids love their nighttime cuddles. Why I haven't been able to incorporate saying the shma into that ritual is a mystery to me. Maybe in 5771.
I'm not suggesting that our Judaism should only be comprised of things that are fun. But if you are looking for somewhere to start, or a next step, like I am, why not at least start there? And if you have your own favorites to share, please add them below.
Shana Tova from my homeshul to yours.
The PJ Library® program sends Jewish-content books and music on a monthly basis to families with children through age eight. Created by The Harold Grinspoon Foundation, The PJ Library is funded nationally in partnership with The Harold Grinspoon Foundation and local philanthropists/organizations.