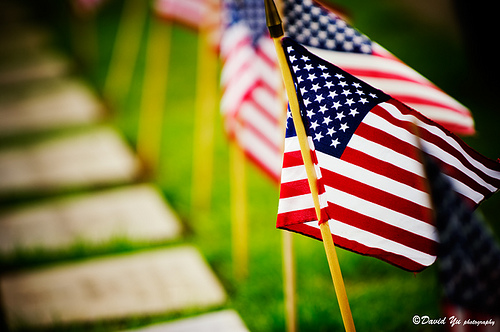 Whenever I pass a man or woman in military uniform, I feel overcome with gratitude. I wish I could say aloud what I'm thinking in my head. I wish I had the courage they have. I wish I had their strength, their valor. I wonder if everything I do in this lifetime will always pale in comparison to their accomplishments.
I don't say it because I'm timid, shy, because I feel awkward. But I hope they know it.
I think about them and the soldiers who died for this country. I think about them the way I feel about a Japanese woman I never met. A friend told me about this woman who lives in Japan. I was fascinated to hear that she was preparing to move to a city in the vicinity of the recent nuclear power plant disaster. I asked her, "Isn't she afraid of the radiation?"
"No," she said. "In fact, she is excited to move there so she can help."
That statement embarrassed me as much as it inspired me. It reminds me that I don't do enough to thank, give to or help those in need. Memorial Day reminds me of all the people who do courageous things on a daily basis that we forget or don't think about.
All soldiers have done the unimaginable. Their gift was their courage. Their price was their life.
Thank you to all the men and women who have served this country! Thank you to the families of soldiers who risked their life for all of us. Thank you for allowing me the freedom to be weak or strong, but most of all for inspiring me to be just a little more brave.
*Sadly, PTSD or Post-Traumatic Stress Disorder is common among military soldiers and veterans. If you are experiencing symptoms such as avoiding situations that remind you of a traumatic event, hyperarousal such as irritability, anger, insomnia or flashbacks, please seek treatment. The National Institute of Mental Health (NIMH) has a complete list of symptoms and the American Psychological Association (APA) has an extensive list of effective PTSD treatments.