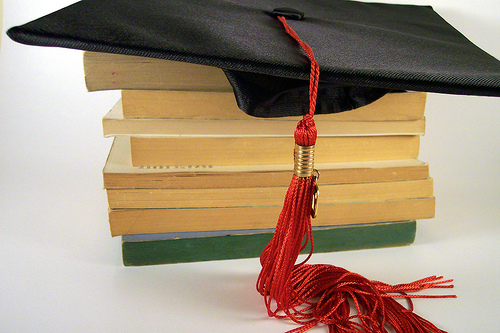 It's been well over a decade since I accepted my diploma under hot stadium lights among a crowd of proud parents and excited friends. And when I look back on that momentous day, I remember the following: 1) how nervous I was that my two worlds (friends and family) would collide and I was anxious about the repercussions 2) the heat from the lights, the summer weather and that ugly gown I swore I'd never wear again 3) worrying about falling flat in front of my face in front of everyone as I walked up toward the podium to receive my diploma
It was just like my wedding. There was a lot of preparation, but not much discussion about the real life changes that accompanies all rites of passage. In other words, it was all ceremony, but not a lot of substance.
If I was able to go back in time and talk to my 17-year-old self, there are a lot of things I wished I could have said. Things like…
1. Don't just go for the $.
Although I was never into making tons of money, when I went to college I suddenly believed that I needed to get a certain type of degree so that I could be financially wealthy. I found myself swept up in the money mentality of our culture. But I just couldn't swallow the accounting courses and business management classes required to graduate with a BA in Business-the degree I thought would make me rich one day. Instead, I kept changing my major and taking more courses which extended my undergraduate life to 5 instead of 4 years. I never got that BA in Business. But I did rack up enough loans to keep me paying for it 10+ years later.
2. It's okay if you don't know what you want to major in.
If someone told me that, maybe I wouldn't have freaked out every time I went into see my college counselor. Unless you're one of the lucky ones, it's normal that you haven't figured out what you want to do with the rest of your life. You'll probably take a few tries before you get it. And that's okay. Part of that "after high school experience" is discovering who you are.
3. Listen to yourself.
I truly believe the reason why it took me so long to figure out what to major in was that I let other people's opinions overshadow my inner voice. On Oprah's Master Class, Condoleezza Rice said she went to school to become a concert pianist. But in her sophomore year she realized she didn't want to pursue it anymore. She took a risk and time to figure out her purpose. She eventually discovered a passion for politics. And well, you know what happened next.
4. Take time to explore life.
I was as studious in college as I was in high school. My biggest regret is that I didn't take a year to study abroad. Although I had my share of fun after high school, I wished I didn't take my life so seriously. I wish I didn't magnify every fight with a friend or worry about the relationships or grades I didn't have. Life after high school will feel that way. But if you can remember that this time in your life is all about exploring who you are, what you want and what's most important to you, you may be able to let go of the insignificant worries that will drag you down. And later, you will be able to look to your memories with a sense of fondest and freedom. Those memories are precious. Spend them well so you won't have any regrets.
5. Grades are not that important.
I graduated with honors with a BA in English and a minor in Ethnic Studies. My major was about as important as my 3.9 GPA. I would later graduate with honors again in graduate school. But there has only been one client who has ever required a high GPA in their job description. Considering how much time I spent in the library, I secretly wished more did.
Having said all that, I wonder how much I would have listened to my own advice. Sometimes it takes living life versus listening to advice for us to really learn. So maybe that's it. Maybe as you get ready to graduate, you should forgo all advice and stay connected with yourself. You are still young. But you carry the inner wisdom to know what's right, what's best for you and what will make you happy. If you can learn that early on, you can get through anything. Congratulations and good luck!
*If you want more advice from successful CEOs like the CEO from AFLAC and Office Depot, read this.
Brandi-Ann Uyemura is a freelance writer who specializes in psychology and self-help articles. She has a MA in Counseling Psychology and writes for several publications and websites. You can get more information about her here. She also blogs about inspiration, writing inspiration and psychology.