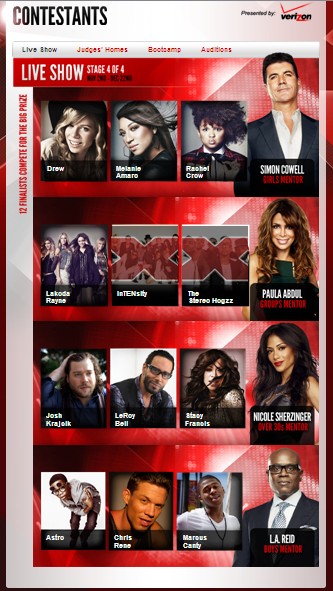 Tonight's episode of The X Factor can be summed up with one word: BORING.
It was rock week, but only one contestant actually sounded like he was performing a rock song. The rest either sang boring versions of songs from rock bands or just sang badly.
LeRoy Bell did a cover of "We've Got Tonight"; he sang well as always, but it was boring.
Rachel Crow did a boppy tween cover of "I Can't Get No Satisfaction". It  was cute but a little Disney-esque. Although I loved that Simon kept the act cute and clean.
Chris Rene sang a Bob Marley song. As always, he sang well, but it was overshadowed by LA and Simon arguing over whether Bob Marley is a rock singer. It was an ongoing argument all night.
Stacy Francis sang "All Coming Back To Me Now" by Meatloaf  (although, didn't Celine Dion do that song, too?). She was off key most of the song. I don't know what's happened to her. She's a fantastic singer but it's almost like she's sabotaging herself every week.
Melanie Amaro did a nice cover of REM's "Everybody Hurts". She sounded great as always, but … boring.
Josh Krajcik did a Foo Fighters' song, with a band. Ta da! Rock song. Best of the night.
Astro was brilliant once again with "Every Breath You Take." He's mature beyond his years, and definitely not boring.
Lakoda Rayne sang Fleetwood Mac and something else I don't care about. It felt more like they were a pep squad doing a half time peformace at a high school football game. Tacky and boring.
Drew warbled out another ballad; she sang it well but seriously? Should U2's "With or Without You" be that boring on a rock theme night?
Marcus Canty was maybe the biggest disappointment of the night. After a huge build up in his pre-performance video segment, he talked about being a pastor's kid, working with the kids at church, and not wanting to compromise his morals. Then he comes out to sing a Janis Joplin tune surrounded by dancers in skimpy leather hot pants who writhe around; at one point the straddle him and he crawls on his back between their legs. His voice was good but the rest? Tacky.
And that's about as much as I could muster up from this very boring night of performances. Tune in tomorrow to see which act goes home.