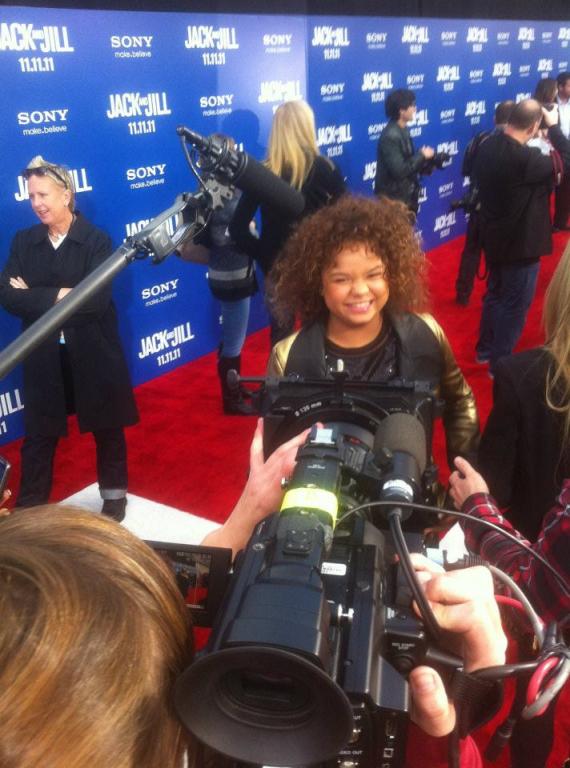 The final 11 contestants performed on tonight's episode of "The X Factor" and some clear frontrunners are starting to emerge. While some were good, some acts simply took the competition to a level a few acts may not be able to reach.
Tonight was movie soundtrack theme night. Stacy Francis was up first, singing "Queen of the Night" from "The Bodyguard." I've never been a fan of the song, and I was even less of a fan of her performance.  Didn't like her hair, didn't like the dancing, didn't like her singing tonight. The song was ironically co-written by LA Reid, and even he wasn't a fan of the performance. He said Stacy did better than he thought she would, but he didn't like it. Paula doesn't like the song either, but said Stacy delivered it. Simon said she looked cute, and as they go to a break, LA says, "I like you better when you cry."
And we're off. Marcus Canty tried to avoid the Bobby Brown imitation with a song from "Car Wash"; he sounded better than he's sounded yet, but it's almost like he can't help moving while he sings. Halfway through the song he tried to take off the jacket, got a little stuck. But vocally, this was definitely one of his best performances.
Drew performed a song I didn't know from "You, Me and Dupree". LA gave Simon a hard time about the movie, which distracted from Drew. I don't know that this was a great performance, but I thought she looked super cool. Turns out she designed her funky dress herself. We found that out after Paula said she didn't like it. Oops. LA also gave Simon a hard time about Drew's song choices being "predictable", that she sounds the same.
LeRoy Bell sang U2's "Still Haven't Found What I'm Looking For." (What movie is this from: "The Runaway Bride." Huh. Who knew.) This was one of his best performaces; he looked the most comfortable he's looked since the live shows started. The judges all agreed, and they commented a lot on how great LeRoy looks for a 60 year old grandfather. Nicole, his mentor, said "Aside from being 60, you just look great," adding that she felt like "we were at a LeRoy concert and you took us to church at the same time."
Lakoda Rayne sang a country pop song from "How To Lose A Guy In 10 Days". I'm sorry. They look pretty and they sing pretty but it all feels completely contrived to me. The judges loved her; Simon called last week's performance "an absolute horror show". LA made a little joke when he said they were his new favorite  girl group in the competition. Haha, they're the only girl group in the competition.
Question: why does a group with four vocalists need 6 back up singers?
Astro did a song from "8 Mile", with his own lyrics. Like I've said, I don't always get rap, but this week I at least got that this kid is wildly talented. There was less arrogance and more passion, if that makes sense, and he showed incredible maturity and talent. The judges agreed that he's a star.
The girl who got the second chance, Melanie Amaro, proved once again how smart Simon was to realize he'd made a mistake sending her home. She sang Michael Jackson's "Man In The Mirror." She's just so talented and so beautiful and so classy, and she's definitely one of the best in the competition. Or, as Simon said, "bloody fantastic."
The Stereo Hogzz performed "Ain't No Other Man" from "Get Smart." Again, I don't understand why a group with 5 vocalists needs 6 back up singers? It seems as if the lead vocalist, Trace, is the main attraction and the other guys are there to balance out the choreography. LA didn't know the song and Simon complimented their choreography and work ethic but wanted them to be less caberet, but Nicole said it was "Bananas."
Josh Krajcik performed "I Get By With A Little Help From My Friends" from "Across The Universe." (Does anyone else feel like the movies picked for this week's theme were just excuses to sing a particular song, vs actual movie theme songs? But I digress.) There's not much you can say about Josh except that he's fantastic. I mean, totally, completely, fantastic. His vocals, his stage presence, his attitude, everything about him.
Chris Rene did a song from "Dangerous Minds," again with some of his own lyrics. Again, I'm no expert on rap, but this week I think Astro may have done a better job technically with the vocals, but in general I think Chris is much more likeable. Simon commented that he loves that Chris has stuck to their agreement to stay clean, because he thinks Chris is a potential superstar.
And as Simon says, they saved the best for last: Rachel Crow. No tweeny boppy throw away songs this week. Rachel sang a Motown song (from "Cadillac Records") and completely left the other contestants in her dust. As she's singing, the camera keeps cutting to Simon, who is clearly quite pleased with himself. Nicole tells Simon that she's happy he listened to her about Rachel's song choice when Rachel interrupts to tell her she actually picked her song that week. Simon says that he trusts Rachel and she says she trusts him. Simon also says that he adores her and called her a "mini little Beyonce".
One thing was clear tonight: some of the contestants have found their groove and their sound and were as consistent as they have been every week, even if not necessarily as good as in past weeks. Drew, Josh, Melanie, Chris, Astro, LeRoy. Some are stuck in the cover band groove – Marcus, Lakoda Rayne, The Stereo Hogzz. I think Stacy is still trying to figure out who she is – one week she's a church singer, the next dancing and singing to a bad song. And Rachel completely stepped up her game; I think she should move forward with this sound rather than the cutesy songs.
Tomorrow we'll find out who goes home!