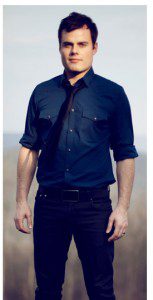 So the Marc Martel frenzy has heated up a few hundred degrees. With his audition for the Queen Extravaganza reaching 3.3 million views in less than a week, a profile in the WSJ.com, and music fans in Japan falling in love, on Monday, October 3, Marc will appear on The Ellen DeGeneres Show.
Yeah, his fans are kinda proud of him. (Go Marc!)
That's because fans of the band Downhere have known about Marc's super great voice for more than a decade. (I met the band 10 years ago when their first album came out, but he's been singing longer than that.)  This is one of those bands where once you meet the guys you walk away feeling like you've made friends for life.
Not only is Marc super talented and totally deserving of the recent mainstream attention, but the rest of the band is just as talented and supportive of their brother. This a great opportunity for them, for their message, and for Marc and we're all behind this recent tidal wave of attention.
I mean, it couldn't have happened to a nicer guy in Christian music.
So check out Marc on Monday, October 3 on The Ellen DeGeneres Show.  Check the show site for show times and station listings in your area.
And check out Downhere's latest album, "On The Altar of Love," as well as their past albums, on the band's website.