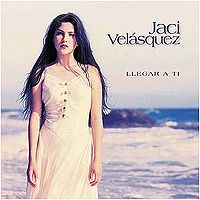 Jaci Velasquez recently had a musical tribute that was literally "out of this world" when NASA astronaut Ron Garan carried Velasquez's album Llegar a Ti with him on a recent trip to space.
Garan flew onboard the Space Shuttle Discovery on a 14-day mission that included nearly nine days docked at the International Space Station, 220 miles above Earth.
Along with Garan, Velasquez's album orbited Earth 218 times, traveling over 5.7 million miles and reaching speeds over 17,000 miles per hour.

Llegar a Ti was the first album Velasquez released in Spanish and garnered the pop artist numerous accolades. The title cut reached #1 on the Billboard Hot Latin Tracks chart, making her the first Christian artist to reach #1 on any Billboard Latin chart. The album peaked at #2 on the Top Latin Albums chart and received a Grammy nomination for Best Latin Pop Album.
Overall, Velasquez has garnered 2 Latin Grammy nominations, 3 English Grammy nominations, 5 Latin Billboard Award nominations, a Latin Billboard Female Pop Album of the Year award, 6 Dove Awards, El Premio Lo Nuestro Award for New Artist of the Year, Soul to Soul Honors and an American Music Award nomination.
Phew. And there's more!
She's sold more than 3.5 million albums, garnered 3 RIAA certified Platinum recordings, 3 RIAA certified Gold recordings, 16 #1 radio hits and has graced more than 50 magazine covers. Her resume includes ad campaigns for Pepsi, Doritos, Target, Frizz-Ease and Helzberg Diamonds.
Velasquez is married to Nic Gonzales, frontman for Salvador. The couple has two children.
You can learn more about Jaci Velasquez on her website.