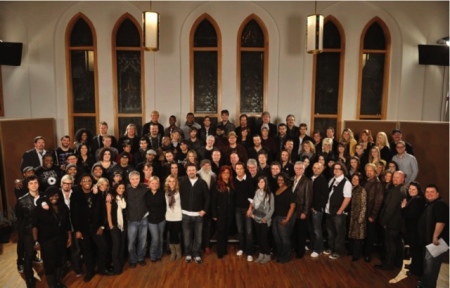 A who's who of Christian artists got together recently to record their own "We Are The World" type song for Haiti.
Led by Michael W. Smith, artists John Schlitt, Chris Sligh, Lee Greenwood, Margaret Becker, Hawk Nelson's Jason Dunn, Mark Hall and Megan Garrett of Casting Crowns, The Oak Ridge Boys, Point of Grace, pureNRG, Wynonna, Mandisa, Natalie Grant, Nicole C. Mullen, TobyMac, and dozens more – including a children's choir of more than 250 elementary school students, 14 of which were from Haiti -gathered at Belmont University's Ocean Way Studios to record the song, "Come Together Now".
The song was penned by Smith, David Mullen and Cindy Morgan, and produced by Bryan Lenox.

"Come Together Now" will be the lead track for the March 2nd Healing4Haiti, a full album project featuring songs by artists like Israel Houghton, DecembeRadio, Kari Jobe, The Afters, Hawk Nelson, Flyleaf's Lacey Mosley, Canton Jones, Lincoln Brewster and Mary Mary.
The studio, artists' and musicians' time for "Come Together Now" was all donated, and proceeds from the song will go to designated charity and relief work through The American Red Cross and Samaritan's Purse. The song is available through digital retailers.
For more about the work of Samaritan's Purse, visit the ministry's website.
For more about the Red Cross, visit the organization's website.
RELATED POSTS:Artists debut "We Are The World" remake to benefit Haiti at the Olympics & Christian connection
Christian artists record Compassionart project
Got a gospel or Christian music news tip? Send me an email!
Click here to subscribe to Gospel Soundcheck by email and have the Gospel Soundcheck headlines delivered daily to your email inbox. And don't forget to follow me on Twitter!