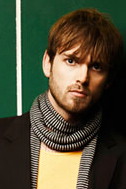 In this week's Cooking with Christian Music, we have a nifty treat from MIKESCHAIR bassist Jon Haire: Creme de Menthe balls!

Jon Haire's recipe for
Crème De Menthe Balls

2 boxes 10X sugar
2 sticks butter
1/2 cup chopped pecans
1/2 cup Crème de Menthe
2 pkg. 12 oz. semi-sweet choc. Chips
1/2 – 1 stick of paraffin
Cream sugar with softened butter; add pecans and crème de menthe. Chill the dough for 30 min. to an hour. Roll balls and put on tray. I put them in the freezer until hard-it makes the dipping easier. While you are freezing the balls, melt the chocolate chips and paraffin in the microwave, heating on high one minute at a time, stirring until mixture is blended. Dip balls in the chocolate and chill. (Paperclips work well for the dipping process!).
You can learn more about
MIKESCHAIR on their website.
Check out the
rest of our Cooking with Christian Music recipes!
Click here to subscribe to Gospel Soundcheck by email and have the Gospel Soundcheck headlines delivered daily to your email inbox. And don't forget to follow me on Twitter!