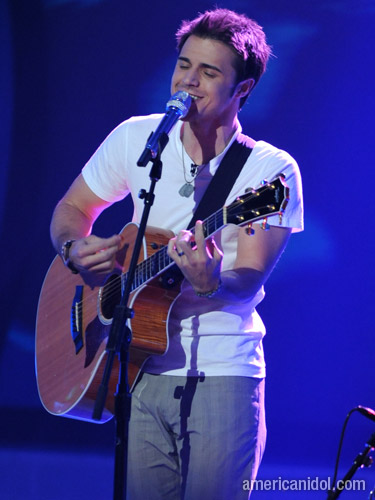 For the past few weeks I've been saying that I think this season of American Idol is going to come down to Adam Lambert, Danny Gokey and Kris Allen. Most people I've talked to disagree; they think Allison wil be in the final three.
But week after week, I've been more and more impressed with Kris Allen, and while I think that Danny has a huge fanbase, I think Kris might actually be the one to watch.
Then today, the New York Post leaked a story that a glitch in the iTunes software let the cat out of the bag: Danny Gokey isn't the first or second most downloaded artist. In fact, of the top 10 songs, he only has one performance. Adam has six, and Kris has three. The paper called it a "shocker" but I'm not surprised.
See, here's where things get a little tricky.

I think that Danny and Kris are splitting the family friendly, Christian, and conservative viewer votes – like it or not – and so one of them is going to go, leaving Adam in the finale with either Kris or Danny. Then I think that the votes that were going to the worship leader who was voted off will move to the one who's left … and here's where I'm going out on a limb … that contestant will win Idol. Yeah, I know, Adam is great. That's why he probably won't win. Really, he's beyond the show.
While Danny is really – REALLY REALLY – popular, I know a number of people who don't like him, or who aren't impressed with what he's doing with the songs. On the other hand, Kris Allen is really raising bar week after week with his arrangements.
So my prediction? I think Kris might walk away with the title.
I know, I know, we still have a few weeks to go, and there is still the chance that the finale could come down to Danny and Kris, or Adam and Danny. It's not impossible and either of those scenerios would really be equally exciting. But there's my prediction, so let's see what happens.
I'm blogging live about American Idol every week, so join me tonight as the Top 5 perform live!
UPDATE 5/13/09: American Idol Top 3 – My Predictions For Tonight's Results Show
Get the Gospel Soundcheck headlines delivered daily to your email inbox. Just sign up for the RSS feed by going to the "Subscribe" box on the right hand side of this blog and entering your email address. And follow me on Twitter!