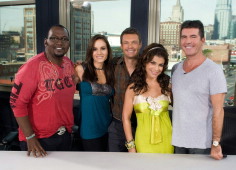 Last night during the American Idol results show, I detected more than a little tension at the judges' table which makes me wonder if this season the real drama will occur off-stage.
While new fourth judge Kara DioGuardi was making comments to four contestants, Simon Cowell mumbled that she was rambling, leading to a tense moment or two while she defended her right to do her job and Simon muttered that she was wasting time.
Cowell has commented before that he wasn't thrilled with the addition of a fourth judge this season, citing the "if it isn't broke don't fix it" mentatlity, but then again everyone expects Simon to complain about everything.

But this week, sweet as sugar Paula Abdul reportedly told OK! Magazine that she didn't think the show needed another judge, sparking Kara DioGuardi to fire back on Access Hollywood, "Paula has a right to her opinions, but I was disappointed by her comments, and hurt that she did not address them to me in person."
The girls seemed to have bonded during the auditions, joining forces more than once against the guys. Their love of Norman Gentle is what got him through to Hollywood, after all.
The thing is, tension among the judges is what makes the show so much fun. While Paula is usually showering love and positive-thinking, affirmative phrases on the contestants, Randy and Simon are disagreeing, either with her or each other.
I wasn't a fan of DioGuardi at first, but she's definitely grown on me. But I have to confess that I miss the familiarity of Simon, Randy and Paula. Now, it's a little like sitting at Thanksgiving dinner while your Uncle Bob's second, considerably younger, wife tries to fit into the discussions. You might like her, but it's awkward when she keeps butting in because you know some of the people at the table have been trying to forget she's there.

HCD Research rated the Idol judges after another survey during Wednesday night's show
, and the
results mirrored last week's.
When asked to evaluate the judges based on scales of likeability, believability, sincerity and fairness, Randy Jackson came out on top. But this week, while Kara was at the bottom of the list, she trailed Simon and Paula by just two points.
In any event, there was clearly some tension last night. Time will tell if there will be more drama with the judges than the contestants this year.
Get the Gospel Soundcheck headlines delivered daily to your email inbox. Just sign up for the RSS feed by going to the "Subscribe" box on the right hand side of this blog and entering your email address. Follow me on Twitter!
MORE AMERICAN IDOL POSTS
Norman Gentle This Season's Sanjaya? No Way! Check out last night's performance
American Idol's Jamar Rogers and Frankie Jordan – BIG BIG NEWS!
American Idol Contestants With Ties to Christian Music – Round 2 & Updates
American Idol's Felicia Barton a Worship Leader at Freedom Fellowship in VA
American Idol Contestant Kristen McNamara & L.A.U.G.H.
More on American Idol contestant Danny Gokey and wife Sophia
More American Idol Posts
And if you want more
American Idol show recap, visit my Idol blog at NewChristianVoices.com
.