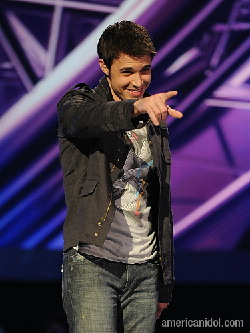 Last night, I was wrong about my American Idol predictions, and I've never been so happy: Kris Allen (pictured) made the Top 12! He, along with Allison Iraheta and Adam Lambert, join Alexis Grace, Danny Gokey and Michael Sarver in the Top 12.
I love Kris Allen but wasn't sure that he'd get enough votes to put him through. Lo and behold, he made it! (I have a hunch we'll see Norman Gentle back for the Wild Card round.)
That means that of the top six contestants, three are church worship leaders:

Before Idol, Danny Gokey was the praise and worship leader at both Faith Builders International Ministry locations, in Beloit, WI for the morning service and then he headed to Milwaukee for the afternoon service, as well as doing mid-week services. Faith Builders is his home church.
Kris Allen has been working with the worship ministry at his home church, New Life Church in Arkansas, on both the Conway and Little Rock campuses since 2007. He is also involved with Chi Alpha Campus Ministries at the University of Central Arkansas.
Michael Sarver does more than just work on an oil rig. He leads a worship and praise team at Harvest Church in Jasper, TX and was once a lead singer at Victory Christian Center in Houston.
Next week, Felicia Barton, who is a worship leader at Freedom Fellowship in Virginia Beach, VA, competes. And Scott MacIntyre regularly performs at his home church, Scottsdale Bible Church; he's also appeared on the Crystal Cathedral Hour of Power and performs with the Gospel quarter, The MacIntyre Family Singers.

And that's not even counting the ones who didn't make it to the top 12 –
Jamar Rogers
, Matt Giraud, Mishovanna Henson.
I don't think having Christians compete on the show is unusual. Jordin Sparks got her start singing in church and won several Gospel Music Association competitions before becoming a pop star with Idol. Chris Daughtry played in a Christian rock band. Last year's Brooke White is a Christian. The list goes on. What I find interesting is the number of worship leaders in this year's show. It's one thing to be a singer with ties to Christian music or the Christian faith – Kristen McNamara is a professed Christian but as far as I know isn't involved in a specific church worship ministry. It's another to be actively involved in Christian ministry and be on the show.
It reminds me of Fox's other now-defunct reality show, "Next Great American Band." Of the final three acts, two were blatant Christian bands – Denver and the Mile High Orchestra and The Clark Brothers. The bands both talked often about their faith, were seen praying (and not just token prayers before a performance,) and mused about reconciling their song choices with their faith. And the winner, The Clark Brothers – sang outright evangelistic Jesus gospel songs on the show. And they were good. I mean
really, really
good.
So what does that mean? Is the mainstream becoming more open to artists with Christian faith? Is American Idol, who had their contestants last year do a group performance of "Shout To The Lord," seeing $$$ from Christian consumers?
Personally, I think it's brilliant to see devout and open Christians on the show. I think we need more talented and faithful Christians influencing mainstream music, rather than insulating themselves in the Christian music bubble. But it's not easy. So if you're a fan of one of this year's contestants, in addition to dialing, pray for them.
What do you think? Does having so many worship leaders in the competition signal any changes in public perceptions about Christianity or Christian music?MORE AMERICAN IDOL POSTS
Send American Idol's Jamar Rogers Birthday Wishes
Norman Gentle This Season's Sanjaya? No Way! Check out last night's performance
American Idol's Jamar Rogers and Frankie Jordan – BIG BIG NEWS!
American Idol Contestants With Ties to Christian Music – Round 2 & Updates
American Idol's Felicia Barton a Worship Leader at Freedom Fellowship in VA
American Idol Contestant Kristen McNamara & L.A.U.G.H.
More on American Idol contestant Danny Gokey and wife Sophia
More American Idol Posts
And if you want more
American Idol show recap, visit my Idol blog at NewChristianVoices.com
.
Denver & the Mile High Orchestra's front man talks about being a root beer snob
Get the Gospel Soundcheck headlines delivered daily to your email inbox. Just sign up for the RSS feed by going to the "Subscribe" box on the right hand side of this blog and entering your email address. Follow me on Twitter!