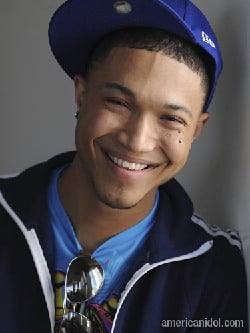 This week, I gave you an update on American Idol's Jamar Rogers and what he's been doing since he was eliminated from the show during Hollywood Week. (Be sure to check out this post: American Idol's Jamar Rogers and Frankie Jordan – BIG BIG NEWS! I know many of you were big fans, so here's your chance to show Jamar how much you miss him on the show:

Jamar celebrates his 27th birthday on Sunday, March 1, and his mom would love it if his fans sent birthday wishes that she could give to him in person! You can send a card to him in care of his church at:
Faith Builders International
c/o Jamar Rogers
4901 S. Howell St.
Milwaukee, WI 53207
Get the Gospel Soundcheck headlines delivered daily to your email inbox. Just sign up for the RSS feed by going to the "Subscribe" box on the right hand side of this blog and entering your email address. Follow me on Twitter!
MORE AMERICAN IDOL POSTS
American Idol's Jamar Rogers and Frankie Jordan – BIG BIG NEWS!
American Idol Contestants With Ties to Christian Music – Round 2 & Updates
American Idol Round One: Blogging LIVE
American Idol's Felicia Barton a Worship Leader at Freedom Fellowship in VA
Idol Shocker: Jamar Rogers Sent Home, Tatiana Del Toro Stays
American Idol Contestant Kristen McNamara & L.A.U.G.H.
More on American Idol contestant Danny Gokey and wife Sophia
More American Idol Posts
And if you want more
American Idol show recap, visit my Idol blog at NewChristianVoices.com
.