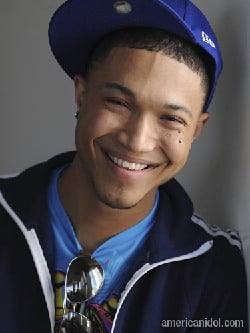 American was shocked when Jamar Rogers was eliminated from American Idol during Hollywood Week. We'd enjoyed watching him and best buddy Danny Gokey during the auditions and had hopes of watching them compete together in the Top 12.
Sure, we were disappointed that Jamar was sent home. But what most fans don't realize is that while winning American Idol is a great thing, not winning can sometimes be a good thing, too. The exposure to millions of viewers can open myriad doors, allowing an artist to pursue his music without restrictions from contractual obligations that dictate style and genre.
So what has Jamar been up to since he was eliminated from American Idol? I had a chance to talk to Jamar's mom, Ms. Danielle Rogers, via email and got the scoop on America's favorite Idol "reject" (relax, you'll get the joke in a minute …)

"Being eliminated from Idol has truly produced many open doors for Jamar and has been a blessing in disguise," says Ms. Danielle Rogers, Jamar's mom. "I know many viewers were disheartened and felt he was handled wrong; however, the positive and godly side that we see is [that] Idol gave him more airtime than majority of the top 36, allowing him to have a fan base in America and in other countries. So, we choose to view the glass half-full and rolling with the blessings of it all!"
She says that when he was eliminated, Jamar was in shock like the rest of us, but handled it with grace. "I cried and cried and felt as if they rejected my son," she laughs. "But he repeatedly told me that he was experiencing an overwhelming peace." In the days that followed, he displayed the same grace that we saw on the show. "God comforted him and reminded him that His will is bigger than what he may think and to remember His promises (and there are MANY!!!)," says Ms. Rogers.
And those promises started rolling in right away. Jamar's employer, P.F. Chang's, transferred him to L.A., where he's currently working with another eliminated Idol contestant, Frankie Jordan! The two are currently putting the finishing touches on their new single, "Reject." (Get the joke now?) You can visit their website, Frank Rogers Must Live, and sign up to get the news when the single is finished. While their Idol contracts don't allow them to do interviews or record and sell music right now, they have permission to do some internet publicity and do live performances. (You can find out more about booking Jamar Rogers by sending an email to his booking contact.)
I asked Ms. Rogers about Danny and Jamar. Their friendship was so touching, and his support of Danny in his time of need was so inspiring. The two seem so close and I wondered how Jamar felt being eliminated while his best friend moved on. She said,:
"As many know, Jamar and Danny are close, but what NO ONE knows, is that Danny was THERE for Jamar when he struggled with life's problems. Please, don't get me wrong, Jamar is a strong and supportive friend for Danny, but they both had 'midnight hours' in their lives and were there for each other. Know what I mean? Jamar is happy and truly proud of Danny and has NO resentment toward Idol or Danny that he was eliminated. He feels this is a perfect time (after Idol gave him great exposure) to sing and create music his way, not the Idol way!!! So, as often as he can get to the studio to support Danny on AI, Jamar's there."
While Ms. Rogers is proud of her talented son – he not only sings but writes, acts and is trying is hand at producing – ultimately, it's who he is as a person that matters. "[H]e has a relationship with our Father; nothing makes me more proud!" she says. "Even though he was raised a Christian, the ultimate choice lies with the adult child to continue what was planted in his/her heart; and he chose wisely, wouldn't you say?"
Yes, I would!
Personally, I'm thrilled that the experience on Idol has turned out so positive for Jamar (and Frankie; I loved her voice and was disappointed that we didn't see more of her during Hollywood week). The world fell in love with him, and getting eliminated might have been a very good thing for him, because he'll be free much sooner to delve into projects, like Frank Rogers Must Live. And we'll be able to watch this godly man, with his positive spirit and graceful attitude, impact mainstream music. I think we need more godly artists in the world rather than tucked away in the Christian subculture … but that's another column ….

One last thing –
Jamar turns 27 on March 1st, and his mom would love for his fans to send birthday cards and wishes for him to:
Faith Builders International
c/o Jamar Rogers
4901 S. Howell St.
Milwaukee, WI 53207
You can visit
FrankRogersMustLive.com
and sign up to be notified when Frankie and Jamar's new single is finished. And you can get more information about booking Jamar by sending an email to
Jamar's booking contact.
Get the Gospel Soundcheck headlines delivered daily to your email inbox. Just sign up for the RSS feed by going to the "Subscribe" box on the right hand side of this blog and entering your email address. Follow me on Twitter!
MORE AMERICAN IDOL POSTS
American Idol Contestants With Ties to Christian Music – Round 2 & Updates
American Idol Round One: Blogging LIVE
American Idol's Felicia Barton a Worship Leader at Freedom Fellowship in VA
American Idol Round One: Tell Me Your Predictions
Breaking American Idol News: Joanna Pacitti Ineligible; Replaced By Felicia Barton
Idol Shocker: Jamar Rogers Sent Home, Tatiana Del Toro Stays
American Idol: My Predictions For Some Of The Final 36
American Idol Season 8 Contestants With Ties to Christian Music
American Idol Contestant Kristen McNamara & L.A.U.G.H.
American Idol Contestant Ryan Johnson Performs Tonight with Christian Band Instereo
Is Jesus at American Idol's Hollywood Week?
American Idol Judge Kara DioGuardi Gives Contestant Some Solid Advice
More on American Idol contestant Danny Gokey and wife Sophia
What's up with American Idol's new judge Kara DioGuardi and why is the show milking contestants' tragedies?
More American Idol Posts
And if you want more
American Idol show recap, visit my Idol blog at NewChristianVoices.com
.