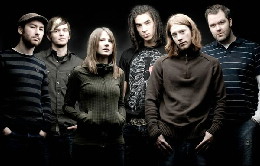 When I told you about the Juno Awards recently, I mentioned that I hadn't heard of the band Life Support. So I contacted the band to get some info, and I think you'll be happy to meet this group of missionary-minded musicians.
The six piece band describes themselves as a "worship collective / "art rock" ensemble whose passion is to lead people into God's presence." The group formed while the members were attending St. Francis Xavier University as an outreach to witness to the students on campus.

Based out of Antigonish, Nova Scotia, the band, who call themselves missionaries, currently tours NL, Maritimes, Quebec and Ontario. They released their album Roar of Heaven last May; the album garnered six awards nominations: three from the Canadian Gospel Music Association for Modern Worship Song of the Year, Rock Song of the Year, and Modern Worship Album of the Year; a nomination from the Music Nova Scotia Awards for Inspirational Recording of the Year; a nomination from the East Coast Music Awards for Gospel Recording of the Year; and a Juno nomination for Contemporary Christian/Gospel Album of the Year.
In an email, the band tells me, "The Lord really took us from humble beginnings all the way to the Junos and we can't believe it! All glory to our good Lord for sure!!! Anything can happen when you put God first!"
The band also partners with Compassion Canada (and you know how I love Compassion!) and went on a trip to Quito Ecuador last summer. The band tells me, "We went to work with the Compassion projects and really saw the face of poverty while we were there… some of our album reflects this experience. From this we have a passion to see the children from third world countries gain sponsors so they can get good bible training, food, and most importantly love and acceptance they need."

You can learn more about
Life Support on their MySpace page.
RELATED POST
Downhere, Starfield, Article One Nominated For Juno Awards
Get the Gospel Soundcheck headlines delivered daily to your email inbox. Just sign up for the RSS feed by going to the "Subscribe" box on the right hand side of this blog and entering your email address.